Oshkosh Defense Showcases National Guard Support at 134th NGAUS Conference & Exhibition
Category: Exhibitions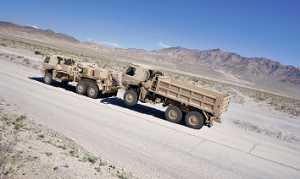 OSHKOSH, Wis. -- Oshkosh Defense, a division of Oshkosh Corporation, will feature advanced military-class vehicles and the latest Integrated Product Support technologies in support of the U.S. National Guard at the 134th NGAUS Conference & Exhibition, Sept. 9-12 at the Reno Convention Center in Reno, Nev.
Oshkosh Defense Showcases National Guard Support at 134th NGAUS Conference & Exhibition
Oshkosh presents light vehicle solutions to support the National Guard
The vehicles and technologies showcased represent Oshkosh's wide breadth of vehicle expertise and ongoing commitment to full life-cycle support.
Oshkosh provides the medium- and heavy-payload tactical wheeled vehicle platforms to the National Guard in 50 states and four U.S. territories.
"Oshkosh Defense is committed to ensuring the National Guard's fleets support its unique dual-role functions for the long run," said Mike Ivy, vice president and general manager of Army Programs for Oshkosh Defense. "This commitment includes improving the National Guard's HMMWV fleet to deliver better performance and mobility for future missions, whether homeland security, training or deployments. With our technical expertise and kitting experience, Oshkosh Defense can deliver best-value upgrades that will keep the National Guard's HMMWV fleet sustainable and relevant for the many years of service ahead."
In addition to the vehicles on display, Oshkosh will feature its virtual training module for the Heavy Expanded Mobility Tactical Truck (HEMTT) M978 Tanker at the show. Incorporated into training courses earlier this year, the Oshkosh Virtual Trainer makes the overall vehicle training program safer and more cost-effective, providing life-like training in a safe, virtual environment. Oshkosh also provides hands-on, classroom and simulation training for operators and mechanics as part of its Integrated Product Support services for all Oshkosh tactical wheeled vehicles.
NGAUS conference attendees can also do their part to support Warfighters by signing the Signature Wall at the Oshkosh booth. For each signature, Oshkosh will donate $2 to the Tragedy Assistance Program for Survivors (TAPS), a national organization that provides compassionate, free-of-charge care for families of fallen military members, by signing a wall at Oshkosh's booth. Continuing an effort that began at AUSA 2011, Oshkosh is collecting signatures until it reaches its goal of $100,000. Oshkosh has a long-standing history of supporting military members and families, both in the field and back home, through charitable giving and program support.
Oshkosh representatives will be on hand to discuss the vehicles and technologies at booth #1103.
Oshkosh
07.09.2012

Share...





Oshkosh Defense Receives Order for 248 Joint Light Tactical Vehicles
02.07.2020
Oshkosh Defense Receives $407.3 Million Order for Joint Light Tactical Vehicles
24.02.2020
Oshkosh Defense Exhibits JLTV Firepower at IDEX 2019
24.02.2019
Oshkosh FMTV A2 Makes Debut at Ausa 2018, Multiple JLTVS Command the Floor
14.10.2018
Discuss