DARPA's Four-Legged Robots Walk Out for Capabilities Demonstration
Category: Robots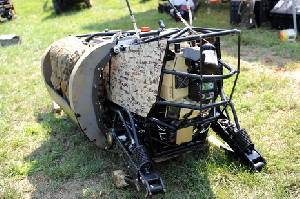 Two completed prototype robotic "pack mules" exhibit reduced noise, new gaits, and improved perception
DARPA's Legged Squad Support System (LS3) program demonstrated two robotic "pack mule" prototypes for the Commandant of the Marine Corps, Gen. James F. Amos, and DARPA Director, Arati Prabhakar. The first platform underwent its initial outdoor test earlier this year and has matured through continual testing and improvements to the point that two functioning platforms have started to run through the paces similar to what they could one day experience carrying gear for a squad of Marines or Soldiers. The goal of the LS3 program is to demonstrate that a legged robot can unburden dismounted squad members by carrying their gear, autonomously following them through rugged terrain, and interpreting verbal and visual commands.
"We've refined the LS3 platform and have begun field testing against requirements of the Marine Corps," said Army Lt. Col. Joe Hitt, DARPA program manager. "The vision for LS3 is to combine the capabilities of a pack mule with the intelligence of a trained animal."
During yesterday's event, the LS3 prototype completed trotting and jogging mobility runs, perception visualization demonstration and a soldier-bounded autonomy demonstration.
Monday's demo also exhibited reduced noise levels for the robots. "LS3 is now roughly 10 times quieter than when the platform first came online, so squad members can carry on a conversation right next to it, which was difficult before," Hitt said.
"Other improvements include the ability to go from a 1- to 3-mph walk and trot over rough, rocky terrain, easily transition to a 5-mph jog and, eventually, a 7-mph run over flat surfaces, showing the versatility needed to accompany dismounted units in various terrains," Hitt said. "The LS3 has demonstrated it is very stable on its legs, but if it should tip over for some reason, it can automatically right itself, stand up and carry on. LS3 also has the ability to follow a human leader and track members of a squad in forested terrain and high brush."
In July, DARPA and the Marine Corps Warfighting Laboratory (MCWL) began a 2-year platform-refinement test cycle with the first DARPA/MCWL-hosted test planned for December 2012 on a military base. Testing will continue approximately every quarter at military bases across the country, culminating in a Marine Corps Advanced Warfighting Experiment wherein the LS3 will be embedded with a squad for an operational exercise.
"Augmenting small dismounted units with autonomous capabilities can be a potent force multiplier," said Brig. Gen. Mark R. Wise, commanding general, MCWL. "The concerted efforts being made to better define autonomous robotic capabilities that help (lighten the load) provide greater mobility and agility to dismounted Marine and U.S. Army forces across the battle space, further demonstrate what can be achieved through partnering with DARPA and other DoD entities in support of the Warfighter."
Sergyi Way
12.09.2012



www.army-guide.com
Share...





Adds to Existing $57.9M IDIQ Contract for Sustainment Activity across All FLIR Unmanned Ground Systems
02.02.2021
FLIR Wins U.S. Army Heavyweight Robot Contract Worth Up to $109M
06.12.2019
BAE Systems unveils Robotic Technology Demonstrator Vehicle at AUSA
15.10.2019
Kapitan UGV has passed the tests in Russia
30.07.2019
Defense Advanced Research Projects Agency - DARPA
aEgis Robot (Remote controlled weapon station)
aEgis II Robot (Remote controlled weapon station)
Super aEgis I Robot (Remote controlled weapon station)
Super aEgis II Robot (Remote controlled weapon station)
UGV-RB Battle Robot (Robot, Unmanned Vehicle)
Discuss