ARA Robots Up to the Challenge in US Army`s 2012 Robot Rodeo
Category: Robots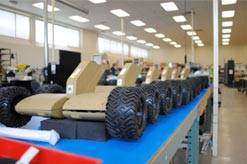 Two of ARA`s unmanned ground vehicles, Robotic Ranger and Pointman, performed well in the 2012 Robotics Rodeo`s Joint Improvised Explosive Device Defeat Organization (JIEDDO) Robot Endurance Challenge held at the Maneuver Battle Lab at Fort Benning, GA in June.
The Robotics Rodeo is an opportunity for scientists and engineers to demonstrate new and innovative unmanned ground systems to the US Army.
ARA's compact, portable Pointman LRV 2000 took first place in the Endurance Challenge and the Pointman LRV 1000 finished second in the Reconnaissance Challenge by finding hidden objects in a multi-story building. Pointman is a 20 lb. tactical robot used for reconnaissance with a unique feature — the Pointman is capable of climbing stairs. For UGVs stairs are often the most difficult obstacle inside buildings. Many other robots might be damaged if tumbled down steps, but Pointman is able to maneuver stairs with ease. ARA recently delivered eight Pointman robots to law enforcement SWAT teams throughout Pennsylvania due in large part to its extraordinarily easy operations, light-weight mobility, rugged reliability, and low cost.
ARA's Robotic Ranger placed second in the Large Robotic Vehicle Class completing the Endurance Challenge with a speed of 11.74 km/hr. The Robotic Ranger used its advanced photogrammetric software to detect changes on the outdoor course from one lap to the next while creating an accurate 3D model of the terrain that could be used for subsequent three-dimensional simulation and mission planning. This automatic change detection capability helps soldiers discover improvised explosive devices (IED) on frequently used travel routes.
ARA President and CEO Dr. Robert Sues put ARA's participation in the competition into perspective. "The 2012 Robot Rodeo demonstrated that ARA's nearly twenty-year history making rugged unmanned equipment for the US military's humanitarian demining and unexploded ordnance range clearance operations can be leveraged for counter-IED operations that will help save lives. Nothing is more important."
ARA
19.09.2012

Share...





Adds to Existing $57.9M IDIQ Contract for Sustainment Activity across All FLIR Unmanned Ground Systems
02.02.2021
FLIR Wins U.S. Army Heavyweight Robot Contract Worth Up to $109M
06.12.2019
BAE Systems unveils Robotic Technology Demonstrator Vehicle at AUSA
15.10.2019
Kapitan UGV has passed the tests in Russia
30.07.2019
aEgis Robot (Remote controlled weapon station)
aEgis II Robot (Remote controlled weapon station)
Super aEgis I Robot (Remote controlled weapon station)
Super aEgis II Robot (Remote controlled weapon station)
UGV-RB Battle Robot (Robot, Unmanned Vehicle)
Discuss