Raytheon awarded $349 million US Army contract for TOW missiles
Category: Contracts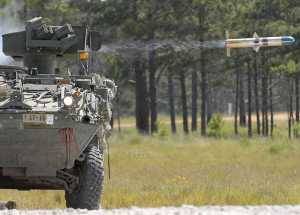 TUCSON, Ariz. -- Raytheon Company received a $349 million five-year, multi-year contract to provide heavy anti-tank, wireless precision-assault missiles for the U.S. government. Raytheon received the award during its third quarter.
Under this contract, Raytheon will deliver 6,676 of the new wireless TOW (tube-launched, optically tracked, wireless-guided) missiles that receive commands from the gunner through a wireless guidance link, eliminating the wire connection in early generations of the missile.
"TOW has been one of the most fired weapons in history, and the upgrade to wireless gives our warfighters an improved capability," said Michelle Lohmeier, vice president of Land Combat for Raytheon Missile Systems. "With this contract, we are partnering with the U.S. Army to ensure our warfighters continue to have this life-saving weapon for years to come."
With the wireless system built into the missile and the missile case, the next-generation TOW works with existing launch platforms, including the Improved Target Acquisition System, Improved Bradley Acquisition System, TOW2 Subsystem and M220 Ground TOW. The system performs exactly like the wire-guided version, enabling soldiers and Marines to continue using the proven weapon without changing tactics or incurring additional training.
"TOW remains the U.S. Army and Marine Corps' primary heavy anti-tank and precision-assault weapon," said Scott Speet, Raytheon Missile Systems' TOW program director. "It is currently deployed on more than 4,000 TOW launch platforms including the Army Stryker, Bradley Fighting Vehicle System and High Mobility Multipurpose Wheeled Vehicle."
About TOW
The tube-launched, optically-tracked, wireless-guided (TOW) weapon system, with the multimission TOW 2A, TOW 2B, TOW 2B Aero and TOW Bunker Buster missiles, is the premier long-range, precision anti-armor, anti-fortification and anti-amphibious landing weapon system used throughout the world today. TOW is in service in more than 40 international armed forces and integrated on more than 15,000 ground, vehicle and helicopter platforms worldwide. The TOW weapon system is expected to be in service with the U.S. military beyond 2025. December 2012 marks the 50th anniversary of the TOW Missile Program, with more than 650,000 missiles produced.
Raytheon
09.10.2012

Share...





ARMATA MBT - problems 2020
24.12.2020
Oshkosh Defense Receives Order for 248 Joint Light Tactical Vehicles
02.07.2020
Rheinmetall books ˆ110 million-contract to extend the service life of the Marder infantry fighting vehicle for the Bundeswehr
21.01.2020
BAE Systems` CV90 increases lethality by testing SPIKE LR anti-tank guided missile
14.01.2020
Balakleya Missile Artillery Repair Plant
Thales Raytheon Systems France
JPS COMMUNICATIONS, INC. A RAYTHEON COMPANY
Corporate Communications Raytheon Company
Missile Rogue (Remote controlled weapon station)
Discuss