Armor Holdings, Inc. Receives $17 Million Order for Individual Body Armor Outer Tactical Vests
Category: Contracts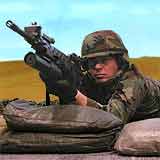 ATLANTA - Sept 12, 2005 - FATS, Inc. announced today that the Defence Procurement Agency (DPA) of the United Kingdom Ministry of Defence (MOD) has awarded FATS a contract valued at approximately $4 million for additional Dismounted Close Combat Trainers (DCCT). FATS plans to complete delivery of 20 systems by the end of March 2006.
DCCT allows the training of five to 10 soldiers simultaneously with single and dual-screen systems. FATS simulated training systems use a variety of technology such as digital video and computer generated imagery that support the training of soldiers in basic to advanced marksmanship, use of force judgment, shoot/don't shoot decision-making and small unit tactical training.
These systems are used to train British military personnel who are deployed in Iraq and throughout the world. This contract is one of several involving virtual training solutions provided by FATS to the UK MOD.
FATS has delivered simulated training systems, continuous service support as well as system upgrades and improvements to the UK since 1992. FATS first supplied DCCT simulators to British military forces in 2001.
"This contract reflects the British military forces continued confidence in our technology, engineering and products," said FATS chief executive officer Ron Mohling. "It exemplifies their commitment to effective soldier training and leader development through FATS cutting-edge virtual training solutions."
FATS
29.09.2005

Share...





Meggitt Training Systems to exhibit at DSEI 2017
14.09.2017
Meggitt Secures GBP13 M UK MoD Small Arms Simulator Upgrade
16.11.2011
CDS Defence Support at International Armoured Vehicles exhibition
28.01.2011
Meggitt Previews Advanced Reality Simulation
27.11.2009
Firearms Training System, Inc. (FATS)
DCCT (Combat actions training simulator)
Discuss