US Army's 2014 modernization plan prioritizes Soldiers in fight
Category: Defence Industry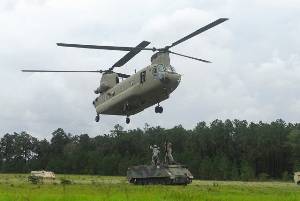 The Army's fiscal year 2014 Equipment Modernization Plan, now working its way through Congress, prioritizes equipping warfighters in Afghanistan while simultaneously preparing for an uncertain future.
Programs in the modernization strategy are grouped within ten "portfolios," but some of those programs the Army has called out as being priorities for the service.
Several programs that make up the Army network have been included as priorities in the plan. Among those are the Warfighter Information Network-Tactical, at $1.3 billion; the Family of Networked Tactical Radios, at $402.1 million; the Joint Battle Command-Platform, at $110.6 million; the Distributed Common Ground System-Army, at $295 million; and the Nett Warrior system, at $122.6 million.
Among combat vehicles, the Army has prioritized the Ground Combat Vehicle program, at $592 million; the Armored Multi-Purpose Vehicle, at $116 million; and the Paladin Integrated Management system, at $340.8 million.
Additionally, the Joint Light Tactical Vehicle is a priority for the service, at $84.2 million; as is the Kiowa Warrior, at $257.8 million.
A complete breakdown of the Army's equipment modernization plan for fiscal year 2014, including cost and what is being purchased, can be found at www.g8.army.mil.
THREE FOCAL POINTS
In advance of plan development, Chief of Staff of the Army Gen. Ray Odierno laid out three priorities to use as guidelines, said Brig. Gen. John G. Ferrari, director, joint and futures, Army G-8. He is one of the architects responsible for assembling the plan.
First among those priorities was a focus on the Soldier and squad, Ferrari said. Developers of the Army's modernization strategy were told to ensure that as budgets come down, Soldiers will continue to be provided with advances in lethality and protection, then build outward from there.
The second priority, he said, is to enable mission command. He said that means providing viable and robust communications network capacity so Soldiers at the small-unit level can operate with "intent, guidance and mission," he said. With such a network, Soldiers will be able to pull the information they need to innovate and solve the problems and tasks they're given.
The third priority, he said, was to "always remember, we're the U.S. Army and we have to remain prepared for decisive action, to fight and win in a large conflict, because that's what the Army's all about."
THE MODERNIZATION PLAN
Ferrari said having a modernization plan doesn't necessarily mean funding is guaranteed, or that Congress won't make changes.
There's a lot of uncertainty, he said, not only about funding for future equipment, but even with paying for programs the Army is trying to execute today.
Because of the budget control act and sequestration, the Army still doesn't know how much money it has to purchase equipment in fiscal year 2013, much less fiscal year 2014. This creates a ripple effect in purchasing, he said, causing a backlog of things that need to be purchased.
However, he pointed out that Congress is performing its constitutional duty to fund the Army and that process must be respected. He said Army leaders remain in close consultation with lawmakers regarding the process. So how does the Army make its purchasing recommendations?
The Army takes a three-pronged approach to its equipment acquisition strategy, Ferrari said, including consideration of the strategic environment, a staggered procurement approach and smarter investing.
STRATEGIC ENVIRONMENT
First, the strategy takes into account the current and future strategic environment, Ferrari said. That includes equipment needed as troops leave Afghanistan and what becomes of that equipment once they're out.
The strategy also includes the shift to the Pacific and regional alignments. The president's National Security Strategy, the Defense Department, the secretary of the Army and the Army chief of staff, along with the Army's Training and Doctrine Command, provide the blueprint and inform direction.
For the strategy to work, Ferrari said, the Army needs a balanced force composed of armor brigade combat teams, or BCTs, lighter infantry BCTs and medium Stryker BCTs. Included with that, he said, is the equipment that goes with each type of unit.
Other "enablers," he said, include intelligence, military police, engineers, and medical support.
STAGGERED PROCUREMENT
As the Army's manpower and budget shrink, it has to be more selective on what to purchase. That might include buying some things in smaller quantities and staggering those purchases out over the years as old equipment is retired, Ferrari said.
The fiscal year 20114 Equipment Modernization Plan does in fact provide a 15-year timeline for equipment purchases so lawmakers can see the rationale behind the Army's decision on how much to spend and what quantities of each item should be purchased for a given year.
Replacing all old, unserviceable or less capable equipment all at once wouldn't make sense and the dollars are not there to do it anyway, he said.
Ferrari provided an example of staggered procurement, using the early Vietnam-era M113 armored personnel carrier to illustrate.
The chassis of an M113 "is basically an aluminum box," he said. "During Vietnam, Soldiers put sandbags on the floor and sides because even then they didn't provide much protection. Yet we still have them 50 years later."
Besides lacking robust armor, the M113 is also not configured for adding network gear, he said. Also, advanced medical equipment can't be loaded on it because the engine doesn't have enough power to move it around.
In other words, he said, "you really don't want your son or daughter to go to war in that thing."
But the Army still has thousands of them and not enough money to replace them all.
A study was conducted, as is done on every piece of gear, to see what is feasible, Ferrari said. The study indicated that those M113s serving on the front lines should be removed as soon as possible and replaced by the Armored Multi-Purpose Vehicle, a much more lethal, versatile and protected vehicle.
However, the remaining M113s could still be used in the rear and mostly out of harm's way, to move Soldiers around, he said.
Another example is the Abrams tank, said Ferrari, who's a tanker by trade. A tank, or for that matter, any vehicle or helicopter, can be divided into three big blocks.
First there's the "platform." Ferrari said that is the steel chassis that might be 30 or 40 years old on an Abrams. The chassis might be "perfectly good" and probably doesn't need to be replaced.
Then there's systems and components like engines, transmissions, guns and sights. Those need to be changed out about once a decade or they become obsolete, he said.
Finally there are the applications that go into them, like the communications and network systems. Those need to be spun out about every five years, he said.
The challenge, he said, is how to synchronize the platform, the components and applications. If too much communications equipment is loaded onto a vehicle, such as a tank, the power draw and weight might stress the engine.
Each of the enhancements must go into an equipment funding request for the appropriate year.
Ferrari said the Abrams tank is still the "best tank in the world" and has a good 10 or 15 years before replacement is necessary. But it still needs funding for such things as new electronics, improved sights and fuel efficiency.
"If you do nothing, over time you won't even be able to buy the circuit cards needed to make it work," he said.
SMARTER INVESTING
Ferrari said the Army needs to slow down spending on development of technologies that are similar to what is already available in the private sector.
The civilian sector already is investing massive amounts of research and development dollars into its hardware, software and other electronic devices, so investing Army dollars in those same endeavors might be foolhardy, he said.
"As technology moves forward we can get the latest technology off the shelf and run with it," he said.
On the other hand, there are certain technologies the Army would be wise to invest in, he said.
Missiles, armor and rotorcraft are a few examples that the Army needs to continue focusing on, he said.
When the Army first went about looking for a replacement for the Vietnam-era OH-58 Kiowa, he said he was "surprised" that there had not been an improved platform developed since Vietnam.
"There's not a huge market for rotorcraft in the civilian world so the military needed to invest its R&D dollars on engines and blades to push technology forward," he said.
All the integrators, systems engineers and mechanical engineers who build those rotorcraft and all of the other new equipment are themselves an investment the Army needs to continue making to retain their skills, he added. No one else understands how all this stuff goes together and works.
Another example of how old and new technology might meet and save money is the Bradley Fighting Vehicle, in service for more than three decades now.
The Bradley is slated for replacement by the Ground Combat Vehicle. In the interim, however, the Bradley has a perfectly usable platform that might escape the scrap heap.
"We're going to industry and saying we want to replace the M113s and, by the way, we have around 2,000 Bradleys," he said. "We can provide you the (Bradley) hulls and you can use them to make a vehicle with more power to keep up with Abrams tanks and enough space to put a mortar or ambulance and comms, at an affordable cost and something that would offer better protection than the M113s," he said, describing ongoing discussions.
"We don't want to be so prescriptive with industry," he said. "Rather, we want to partner with them to come up with cost effective solutions."
SOLDIER-DRIVEN FOCUS
An important step in the equipment funding request is saving money through user testing, Ferrari said.
Over the last several years the Army has conducted a number of Network Integration Evaluation, or NIE, exercises on training ranges in Texas and New Mexico. These exercises are known for testing network gear, as the name implies, but they're also being used to test other equipment.
Ferrari said last year, Soldiers got to put infantry fighting vehicles from around the world through their paces.
"What better place to test it than with Soldiers in a brigade?" he said, adding, "Any time you get equipment in Soldiers' hands and let them train with it, you'll wind up with a better piece of gear."
The NIE success story has its roots in the wars in Iraq and Afghanistan, where equipment was fielded on the battlefield within weeks.
"That's been the real success story of the war," he said. "We got Soldiers equipment that would have taken years under the normal process. We put it in their hands. Did every piece of equipment work? No. But a lot of it did."
Ferrari said there will be failures along the way, but from the kind of testing that goes on at NIE, the Army can better learn and observe how equipment will be used in the war fight.
It's a "win-win" for Soldiers and the private sector, he explained, since the Soldiers themselves are doing the market research.
"They'll tell you right away, 'there's a button is in the wrong place,' 'I don't understand the dials,' 'it takes me 14 clicks to get in there to do it, so give me something simpler,' 'I can't read this when it's dark out there,' 'this flashlight has a red filter and you wrote on it in red and I can't see it,'" Ferrari said.
"So when you get that early in the developmental process, it's much easier to fix and change than buy it and then change it," he said. "It also familiarizes us with what's in industry as well, so we know when you go to war what's out there."
By David Vergun
US Army
29.05.2013

Share...





Oshkosh Defense Receives Order for 248 Joint Light Tactical Vehicles
02.07.2020
Oshkosh Defense Receives $407.3 Million Order for Joint Light Tactical Vehicles
24.02.2020
Rheinmetall to Feature Next Generation 130mm Tank Gun at AUSA Global
04.11.2019
Rheinmetall Presents Next Gen "Wiesel Wingman" solution for Robotic Combat Vehicle – Light at AUSA 2019
04.11.2019
US Army Tank-automative & Armaments Command (TACOM)
L-ATV/JLTV (Mine protected carrier)
Discuss