Armour Plate Experts Unveil SMARTbend at DVD 2013
Category: Future Technologies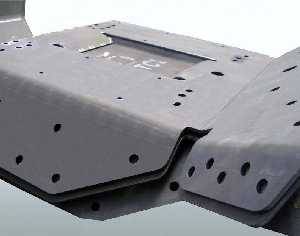 MTL Group today announced the launch of a new technology called SMARTbend. This technology developed by Europe's leading specialist in cold forming ultra-high-hard armoured materials allows intricate shapes to be formed without the need for expensive tooling.
Following on from the success of its IMPAS Armour solution for add-on protection up to STANAG 4569 Level IV, MTL Group has invested significantly in SMARTbend giving armoured vehicle manufacturers a lower cost cold formed solution as an alternative to hot formed armour.
Due to the nature of SMARTbend, no heat is introduced into the material so the original mechanical properties of the steel are maintained unlike other processes that rely on heat and expensive, bespoke tooling to bend this type of material.
Simon Hurst, Sales Manager for Defence at MTL Group said
"Our customers are always challenging us to offer new options for their current vehicle protection systems. We work with them to manufacture an armoured structure in fewer pieces giving a stronger, lighter and more cost effective product together with increased protection levels to the end user".
With all processing under one roof at its 30,000 sq. m. facility in Rotherham, UK, MTL Group has already demonstrated its capability in the design, development and manufacture of fully fabricated armoured structures to its global customer based. MTL Group is recognised as one of the leading manufacturers in the world to offer this complete service.
This SMARTbend technology, together with MTL Group's already successful DFM (Design for Manufacture) service is giving global vehicle manufacturers new opportunities and they are already seeing the benefits of SMARTbend to reduce cost and weight and to seriously think "outside the box" at the design stage.
Simon Hurst said "It is an exciting and busy time for MTL Group at the moment with more customers bringing their challenges to the table ranging from hull optimisation projects to weight and cost reduction programmes and they are seeing excellent results."
MTL Group will exhibit its SMARTbend and DFM in Concept 3 at DVD 2013, Millbrook Proving Ground in June.
MTL Group
13.06.2013

Share...





MTL Group Exhibit at DSA 2014
17.04.2014
New Generation Armour Creates Options for SUV Market
14.08.2013
Discuss