Oshkosh Defense L-ATV Makes European Debut
Category: Exhibitions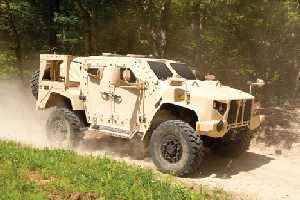 OSHKOSH, Wis. -- Global military forces require a mobile, protected and lightweight vehicle to navigate the unpredictable combination of terrain, tactics and threats they face in current and future missions. Oshkosh Defense, a division of Oshkosh Corporation, is ready to meet that need with the Oshkosh Light Combat Tactical All-Terrain Vehicle (L-ATV).
The company is exhibiting the vehicle for the first time in Europe at the DSEI 2013 defence and security exhibition, Sept. 10-13 in London.
The Oshkosh L-ATV can help fill a vital capabilities gap for protection and mobility that global militaries face with their current light-vehicle fleets. Many historical light vehicle fleets, such as the High-Mobility Multipurpose Wheeled Vehicle (HMMWV), Eagles and Land Rovers, are nearing the end of their useful life cycle and were never designed to accommodate the armour and equipment that is needed for modern conflicts.
"The ability to operate on a battlefield with a wide range of threats and terrain is increasingly critical for forces around the globe," said John Urias, Oshkosh Corporation executive vice president and president of Oshkosh Defense. "The L-ATV was specifically designed to fulfil that mission. The platform offers unprecedented levels of protection and off-road mobility to navigate even the harshest environments."
The L-ATV's superior mobility is largely attributable to the Oshkosh TAK-4i intelligent independent suspension system. The TAK-4i system expands on the success of the proven TAK-4® system to deliver more than 50 centimetres of independent wheel travel – a 25 per cent increase over currently fielded vehicles. The TAK-4i system enables the L-ATV to shift power to the wheels that are in contact with the ground to provide control and manoeuvrability on dangerous terrain.
The L-ATV offers advanced troop protection against IEDs and other battlefield threats with a scalable armoured capsule optimized for protection, weight and mobility. The capsule's modular, adaptable design can accept multiple armour configurations, allowing the vehicle to accept future enhancements.
Oshkosh Defense can deliver L-ATV fleets with fully integrated and tested command, control, communications and computer (C4) equipment. This includes factoring the mechanical, electrical and user interfaces into the vehicle design process to optimize overall system performance and the user experience. Oshkosh performs C4 installation in-house, either during the production process or after, to reduce time and costs. Oshkosh integrated C4 systems into the Oshkosh M-ATV, which contributed to the vehicle being designed, produced and delivered at a rate of more than 1,000 per month – all in less than one year.
"We blended the latest design and proven technologies in the L-ATV to create a vehicle with superior performance and reduced sustainment costs," added Serge Buchakjian, senior vice president and general manager of international programs for Oshkosh Defense. "Our global life-cycle support offerings, from training and parts supply to maintenance support and remanufacturing, help keep vehicle fleets at peak readiness anywhere the mission requires."
Virtual Training Improves Fleet Readiness and Reduces Costs
In addition to the L-ATV, Oshkosh will display a technology kiosk at DSEI featuring the Oshkosh Virtual Trainer Heavy Expanded Mobility Tactical Truck (HEMTT) module. The Oshkosh Virtual Trainer provides life-like training in a safe, virtual environment, while providing troops the skills they need to perform actual tasks. Oshkosh currently offers the Virtual Trainer for multiple HEMTT configurations and has found it can provide a 20 per cent or more cost savings compared to a traditional classroom-only training approach.
The Oshkosh Virtual Trainer is part of Oshkosh's Integrated Product Support (IPS) offerings, a comprehensive vehicle-service portfolio designed to optimize fleet readiness and life-cycle costs. Oshkosh IPS offerings include training services, instruction manuals, maintenance and repairs, parts supply, and fleet restoration services. Oshkosh has been executing a successful 20-year service plan for the British Armed Forces' Wheeled Tanker program since 2003. This has included the development of training manuals, maintenance support and integrated logistics support for the fleet of approximately 350 vehicles.
Oshkosh Defense leadership will be available to discuss vehicles, technologies and training capabilities at DSEI at booth #N4-160 in the ExCeL London Exhibition and Convention Centre.
Oshkosh
10.09.2013

Share...





Oshkosh Defense Receives Order for 248 Joint Light Tactical Vehicles
02.07.2020
Oshkosh Defense Receives $407.3 Million Order for Joint Light Tactical Vehicles
24.02.2020
Oshkosh Defense Exhibits JLTV Firepower at IDEX 2019
24.02.2019
Oshkosh FMTV A2 Makes Debut at Ausa 2018, Multiple JLTVS Command the Floor
14.10.2018
L-ATV/JLTV (Mine protected carrier)
Discuss