GD Awarded $118 M for Stryker Double-V Hull Vehicles
Category: Contracts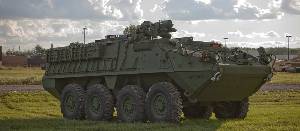 General Dynamics Land Systems has been awarded a $118 million contract by the U.S. Army TACOM Life Cycle Management Command to convert 66 flat-bottom Stryker infantry combat vehicles to a newer, more survivable double-V hull (DVH) design. Deliveries of the vehicles will begin in July 2014 and be completed by February 2015. General Dynamics Land Systems is a business unit of General Dynamics.
The Army partnered with General Dynamics in 2012 and launched a Stryker DVH-exchange pilot program to validate that components from traditional Stryker flat-bottom variants can be quickly refurbished and installed on a new, more survivable double-V hull variant, at less cost than producing a new vehicle. General Dynamics and the Anniston Army Depot in Anniston, Ala., successfully completed the DVH pilot program in April 2013 and delivered 52 Stryker vehicles on time and under budget.
The first brigade of Strykers equipped with double-V hulls was fielded in 2011 to provide Stryker-borne soldiers increased protection from the effects of roadside mines and improvised explosive devices. With MRAP-like or better survivability, the DVH configuration also includes a more rugged suspension system that has greatly improved mobility and reduced operating costs. Two brigades of double-V hull Stryker vehicles were produced between July 2010 and July 2013.
The final assembly work will be performed at the Anniston Army Depot and will help to sustain the jobs of 80 employees who support the program. The contract will also preserve several jobs at General Dynamics' plant in Scranton, Penn.
General Dynamics
11.09.2013

Share...





KONGSBERG CONCLUDES A $ 54 MILLION CONTRACT FOR THE DELIVERY WEAPON STATIONS TO CANADIAN ARMY
05.06.2020
Germany awards 159 MUSD vehicle contract to GDELS
24.04.2020
Switzerland awards contract to General Dynamics European Land Systems- Mowag to deliver 100 EAGLE 6x6 reconnaissance vehicles
06.12.2019
General Dynamics Land SystemsľUK showcases adaptable Foxhound vehicle at DSEI 2019
23.09.2019
General Dynamics Land Systems - GDLS
General Dynamics Ordnance and Tactical Systems
General Dynamics European Land Systems-Mowag GmbH
General Dynamics Santa Barbara Sistemas
General Dynamics Armament Systems
General Dynamics Defence Systems
General Dynamics European Land Systems-Steyr GmbH
General Dynamics Armament and Technical Products (GDATP)
General Dynamics Amphibious Operations - GDAMS
General Dynamics Corp., Advanced Information Systems
General Dynamics Robotic Systems - GDRS
General Dynamics Land Systems - GDLS - Canada
General Dynamics European Land Systems - GDELS
STRYKER ICV (Wheeled armoured personnel carrier)
STRYKER M1129 MC (Mortar vehicle)
Stryker ICV (Wheeled armoured personnel carrier)
STRYKER (Self-propelled howitzer)
STRYKER IFV M1126 (Infantry fighting vehicle)
STRYKER M1127 RV (Wheeled armoured personnel carrier)
STRYKER M1130 CV (Command vehicle)
STRYKER M1132 ECV (Engineer vehicle)
STRYKER M1133 (Ambulance vehicle)
STRYKER M1134 (Self-propelled antitank guided missile system)
STRYKER M1135 NBCRV (Nuclear/biological/chemical reconnaissance vehicle)
STRYKER M1132 (Mine clearing vehicle)
STRYKER XM1128 MGS (Fire support vehicle)
STRYKER XM1134 (Self-propelled antitank guided missile system)
STRYKER M1131 FSV (Fire support vehicle)
STRYKER M1133 MEV (Ambulance vehicle)
Ň╠1296 Stryker ICV Dragoon (Modernization of the vehicle)
Discuss