Gavial, a new tactical vehicle for the Bundeswehr: Rheinmetall and Panhard/Auverland enter cooperation agreement
Category: Defence Industry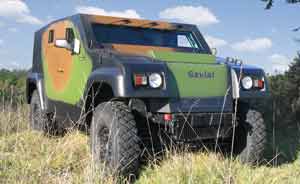 Rheinmetall and Panhard/Auverland have agreed to work together in the field of wheeled, 5 ton-class armoured vehicles for the German market.
As part of this agreement, Rheinmetall Landsysteme GmbH of Kiel, the Land Systems division of the Rheinmetall Group, has obtained the German rights to Panhard/Auverland's newly developed A4 AVL. Rheinmetall Landsysteme (RLS) will be responsible for adapting the vehicle to the needs of the Bundeswehr, as well as the integration of application-specific assemblies and weapon stations. The new RLS vehicle will be marketed under the name Gavial after the strong and well-fortified Asian crocodile.
During intensive trials the basic vehicle has already been successfully qualified and is being procured in large numbers by the French army for the PVP programme (Petit Vehicule Protege).
Under the rubric of its so called "Geschutzte Fuhrungs- und Funktionsfahrzeuge - Armoured Command and Operations Vehicle" project, the Bundeswehr has also announced its interest in vehicles, which are well protected, helicopter transportable and highly mobile. Specifically designed to the meet the multifaceted requirements levied on vehicles of this type, the Gavial will make a major contribution to protecting troops during dangerous deployments. At the same time, the Gavial completes Rheinmetall's portfolio of wheeled vehicles, thereby further reinforcing the company's global status as a competent system supplier and manufacturer of high-quality wheeled tactical vehicles.
The Gavial is a highly mobile, helicopter transportable, all-terrain four-wheel drive vehicle. It offers in this class a high degree of modular ballistic and mine protection.
Powered by a EURO-III-diesel engine, the vehicle features high on and off-road mobility. The versatile Gavial can carry up to four persons incl. equipment and can be used to perform an extremely wide variety of missions, such as reconnaissance, command and control, transport and patrolling and is capable of accommodating various weapon stations.
Rheinmetall AG
09.10.2005

Share...





Rheinmetall MAN Survivor R special protected vehicle on show at GPEC 2020 international security exhibition in Frankfurt/Main
24.02.2020
Rheinmetall books ˆ110 million-contract to extend the service life of the Marder infantry fighting vehicle for the Bundeswehr
21.01.2020
Rheinmetall to Feature Next Generation 130mm Tank Gun at AUSA Global
04.11.2019
Rheinmetall Presents Next Gen "Wiesel Wingman" solution for Robotic Combat Vehicle – Light at AUSA 2019
04.11.2019
Rheinmetall MAN Military Vehicles GmbH - RMMV
Rheinmetall Verseidag Ballistic Protection GmbH
Rheinmetall Soldier Electronics GmbH
Rheinmetall AG, Representative Office Abu Dhabi
Rheinmetall Waffe Munition GmbH
Rheinmetall Defence Electronics GmbH
Rheinmetall Waffe Munition Arges GmbH
American Rheinmetall Munitions, Inc. - ARM
Rheinmetall Denel Munition (Pty) Ltd - RDM
Gavial (Wheeled armoured personnel carrier)
Discuss