Sagem wins order from Nexter Systems to supply 37 SIGMA 30 pointing systems for CAESAR gun export contract
Category: Defence Industry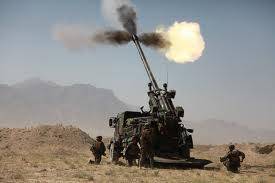 Sagem (Safran) has won a new order from Nexter Systems to supply 37 SIGMA 30 navigation and pointing systems for CAESAR guns, to be delivered to an Asian customer.
Sagemís SIGMA 30 system gives long-range artillery system immediate, high-precision firing capability, since they do not need GPS.
Drawing on Sagemís proven expertise in navigation systems and inertial sensors, the SIGMA 30 features large digital ring laser gyro technology. Its performance characteristics make it a perfect solution for todayís artillery. Enabling deployment in distributed configurations, the Sigma 30 system enhances the mobility and protection of support forces. It is mounted on the cannon, and offers totally independent operation, protected from enemy countermeasures.
The SIGMA 30 system contributes to the excellent operational results of CAESAR guns deployed by the French army in todayís most demanding theaters, including Afghanistan and, most recently, Mali, for Operation Serval.
The contract announced today consolidates Sagemís partnership with Nexter Systems for the CAESAR gun, by bringing the advantages of latest-generation inertial systems to the companyís entire range of combat vehicles, whether in production or under development. All CAESAR artillery systems now in service, more than 250 units, are equipped with the SIGMA 30 navigation and pointing system. They are produced at Sagemís Montluçon plant.
In addition to CAESAR guns, Sagemís SIGMA 30 system outfits 40 other artillery systems, including: PzH2000 (Krauss Maffei Wegmann), MLRS M270 (Airbus Defense), Nora (SDPR), Archer (BAE), and the 2R2M mobile mortar (Thales).
Sagem has developed proven expertise in all inertial technologies (mechanical, laser, fiber-optic, vibrating), with more than 60 years of experience on both civil and military navigation systems operating in all environments around the world.
Sergyi Way
07.03.2014



www.army-guide.com
Share...





TEMPORARY COMPANY GROUPING EBMR MEETS ITS DELIVERY OBJECTIVES FOR 2019
14.01.2020
CZECH REPUBLIC SIGNED THE ACQUISITION CONTRACT FOR 62 TITUS
30.07.2019
DALO Contracts Systematic To Enhance Artillery System Combat Effectiveness
17.07.2018
KMW and Nexter join forces on Main Ground Combat System
21.06.2018
Sagem Defense Securite (SAFRAN Group)
CAESAR (Ammunition resupply vehicle)
CAESAR 8x8 (Self-propelled gun)
Discuss