BAE and Rheinmetall Team to Offer Go-Anywhere Vehicles to Canada
Category: Defence Industry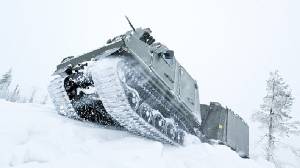 Rheinmetall Canada Inc will display the BAE Systems BvS10 all-terrain vehicle on its outdoor stand (#2102) at the CANSEC defense exhibition in Ottawa from May 28 through May 29.
The move follows a teaming agreement signed by the two companies in late 2013 as part of a future bid for the Marginal Terrain Vehicles (MTV) program in Canada, offering the BvS10.
Rheinmetall Canada has long experience in Canada with managing government furnished equipment and system integrations. Rheinmetall will supply and integrate Canada-specific sub-systems, including the remote weapons station, as well as carry out support.
"Rheinmetall Canada has the technical and delivery capabilities we have been looking for to deliver this program and we are looking forward to a strong co-operation," said Tommy Gustafsson-Rask, managing director at BAE Systems.
"The BvS10 is the original and best armored all-terrain vehicle," said Alain Tremblay, vice president for business development at Rheinmetall Canada. "We believe it will provide Canadian forces the powerful and flexible capability they require."
BAE Systems offers 50 years' experience of tracked all-terrain vehicles. Sweden, the United Kingdom, the Netherlands, and France all operate the company's BvS10 and more than 10,000 of the earlier, smaller BV206 family of vehicles have been sold around the world. Soucy, based in Drummondville, Quebec. makes rubber tracks for the BV vehicles and, increasingly, for its larger CV90 stablemate.
Designed for use in arctic and other challenging conditions, BAE Systems' all-terrain vehicles are seeing increased use in humanitarian aid and disaster relief around the globe.
BAE Systems' factory in Örnsköldsvik, Sweden is currently building new BvS10s for Sweden and carrying out a major refurbishment of the British Royal Marines' BvS10 Viking fleet.
BAE Systems
29.05.2014

Share...





KONGSBERG CONCLUDES A $ 54 MILLION CONTRACT FOR THE DELIVERY WEAPON STATIONS TO CANADIAN ARMY
05.06.2020
Rheinmetall MAN Survivor R special protected vehicle on show at GPEC 2020 international security exhibition in Frankfurt/Main
24.02.2020
Rheinmetall books ˆ110 million-contract to extend the service life of the Marder infantry fighting vehicle for the Bundeswehr
21.01.2020
Rheinmetall to Feature Next Generation 130mm Tank Gun at AUSA Global
04.11.2019
Rheinmetall MAN Military Vehicles GmbH - RMMV
Asian Defence Journal Office for United States/Canada
Defense News Representative in Eastern USA and Canada
Rheinmetall Verseidag Ballistic Protection GmbH
General Motors Of Canada Limited
KUKA Defence Technologies of Canada Ltd.
Rheinmetall Soldier Electronics GmbH
Saab Training Systems Canada Limited
DuPont Canada, Inc. Advanced Fibers Systems
Defence Research and Development Canada Valcartier - DRDC
Rheinmetall AG, Representative Office Abu Dhabi
General Dynamics Land Systems - GDLS - Canada
Rheinmetall Waffe Munition GmbH
Rheinmetall Defence Electronics GmbH
Rheinmetall Waffe Munition Arges GmbH
American Rheinmetall Munitions, Inc. - ARM
Rheinmetall Denel Munition (Pty) Ltd - RDM
Discuss