CMI Defence to Exhibit New COMMANDO™ Select 90mm Direct Fire Vehicle at Eurosatory
Category: Exhibitions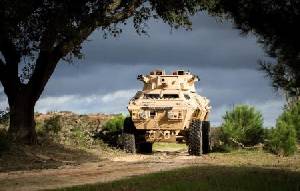 Infantry-led mounted and dismounted operations are in ever greater need of effective fire support. Peacekeeping, reconnaissance and counter-insurgency operations have the same need. To help meet this need, Textron Systems' Marine & Land Systems has teamed with CMI Defence to integrate the Cockerill CSE 90LP turret with its COMMANDO Select 4x4 armoured vehicle. The resulting COMMANDO Select 90mm Direct Fire Vehicle (on display at Eurosatory Hall 5, stand numbers K338 & K337) offers heavy organic direct fire-support to light and highly mobile armoured forces.
The Cockerill CSE 90LP is a low-weight two-person turret. Featuring the proven Cockerill 90mm low pressure gun (of which some 2,500 units have been sold) the turret delivers a range of highly effective rounds from bunker-busting HE to APFSDS-T, HEAT-T, Smoke and Canister. These rounds are accurately delivered around the clock using electrically-powered gun drives and a night/day digital fire control system. The low weight of the Cockerill CSE 90LP turret allows the COMMANDO to maintain its highly mobile characteristics. Despite its high capability and advanced design, the Cockerill CSE 90LP turret is simple to use and ruggedly reliable in the field; a real soldier's tool.
Textron Systems' Marine & Land Systems' COMMANDO Select four-wheeled armoured personnel carriers offer an enhanced combination of lethality, survivability, mobility and sustainability. Exceptional crew protection is built into all COMMANDO Select vehicles, which are in use today by the Afghan National Army. Greater survivability, however, doesn't mean sacrificing vehicle mobility. Rigorously tested and proven in the toughest environments, COMMANDO Select vehicles utilize a V-Hull with all systems protected under armor to deliver superior mine-blast protection while also providing unmatched on-road/off-road mobility.
The 90mm Direct Fire Vehicle variant combines the full range of combat-tested COMMANDO Select vehicle capabilities with Cockerill's tested 90mm turret for additional firepower and lethality.
The combination of the Cockerill CSE 90LP turret with the COMMANDO Select 4x4 armoured vehicle offers the user:
Excellent tactical and strategic mobility
Highly effective organic direct fire-support by day and by night
Broad range of tactical options (from peace-keeping to counter-insurgency to conventional war fighting)
Simplicity of use and support
Rugged reliability in the field
The confidence of proven, in-service, systems
The Cockerill CSE 90LP turret, joined with the combat-proven COMMANDO armoured vehicle chassis, promises a great advance in terms of organic direct-fire capability for light armoured forces. The COMMANDO Select 90mm Direct Fire Vehicle is a cost-effective force multiplier that delivers flexible lethality together with high strategic mobility, tactical mobility, survivability and reliability.
CMI Defence
16.06.2014

Share...





Textron Systems Announces Plans to Acquire Robotics Innovator Howe & Howe Technologies
04.11.2018
SAIC Announces Teaming Agreement with ST Kinetics and CMI Defence to Develop Ground Combat Vehicle Prototype
08.10.2017
CMI Defence, partner of the US Army for the development of the future medium caliber system
17.06.2016
CMI Defence introduces the world's first UAV integration in a combat turret
16.06.2016
LAV-150 Commando (Reconnaissance Vehicle)
VLRA TDN-TDE Commando (Patrol Vehicle)
COMMANDO Advanced (Reconnaissance Vehicle)
COMMANDO Select (Tactical vehicle)
COMMANDO Elite (Tactical vehicle)
Discuss