KONGSBERG to deliver PROTECTOR RWS for the General Dynamics UK SCOUT Programme
Category: Defence Industry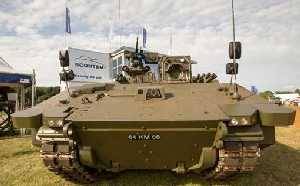 KONGSBERG has signed the production contract with General Dynamics UK, for the delivery of PROTECTOR Remote weapon systems for the SCOUT Specialist Vehicle Programme, valued at GBP 61 million.
"It is fantastic to see the efforts and teamwork that developed between KONGSBERG and the General Dynamics UK team during the initial phase of the programme moving forward into the serial production phase. We have delivered systems to the British Forces for several years and we are very proud to be able to continue doing so as part of such an important programme in the UK", says Mr. Espen Henriksen, President of Kongsberg Protech Systems.
The PROTECTOR system will be available on all SCOUT SV platform variants and can replace the Primary Sight on the SCOUT Reconnaissance variant. The PROTECTOR Systems will be integrated into the advanced electronic architecture inside each platform. The systems will be produced in Kongsberg, Norway and deliveries will commence in the fall of 2016.
The PROTECTOR Remote Weapon Station is designed for small and medium caliber weapons and can be installed on any type of platform; it is a fully stabilized, combat proven system qualified for global operations. The PROTECTOR protects military troops by allowing the vehicle's weapons to be operated from a protected position inside the vehicle.
As of 2014, the PROTECTOR system has been chosen by 17 nations and KONGSBERG continues to be the world's leading provider of Remote Weapon Stations.
KONGSBERG
12.02.2015

Share...





KONGSBERG CONCLUDES A $ 54 MILLION CONTRACT FOR THE DELIVERY WEAPON STATIONS TO CANADIAN ARMY
05.06.2020
CONTRACT TO DELIVER REMOTE WEAPONS STATIONS TO DENMARK WORTH 270 MNOK
11.12.2019
Oshkosh FMTV A2 Makes Debut at Ausa 2018, Multiple JLTVS Command the Floor
14.10.2018
Kongsberg and Milrem Robotics Showcase a Robotic Antitank and HMG System at AUSA
14.10.2018
Kongsberg Defence & Aerospace AS
M151 Protector RWS (Remote controlled weapon station)
Protector Javelin (Remote controlled weapon station)
Protector Lite (Remote controlled weapon station)
M 153 Protector CROWS II (Remote controlled weapon station)
Protector (Wheeled armoured personnel carrier)
Protector MAV (Wheeled armoured personnel carrier)
Casspir Mk VI Protector (Mine protected carrier)
Protector Dual RWS (Remote controlled weapon station)
Protector Super Lite (Remote controlled weapon station)
PROTECTOR MCT-30 (Remote controlled weapon station)
Protector Nordic (Remote controlled weapon station)
Protector (Robot, Unmanned Vehicle)
Discuss