Rolls-Royce To Supply MTU Engines For British Army's Scout SV Armoured Fighting Vehicle
Category: Defence Industry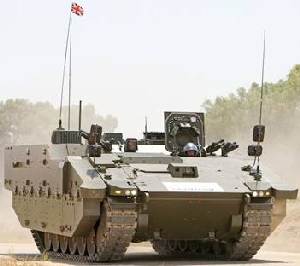 Rolls-Royce has received an order from General Dynamics European Land Systems for the delivery of 589 MTU Series 199 diesel engines for use in the new SCOUT Specialist Vehicle (SV) for the British Army.
The contract value is approximately ˆ80m and will be the first time that MTU engines have been utilised in British Army platforms. The vehicles will be delivered by General Dynamics UK in six variants and will form the backbone of the British Army's future fleet of Armoured Fighting Vehicles. Delivery of the engines will start in 2016, and the last engines will be delivered in 2022.
Dr Ulrich Dohle, Rolls-Royce Power Systems, CEO said: "We are delighted that our MTU engine has been trusted for this important project. This order once again proves that when it comes to performance and reliability, the Series 199 engine is benchmark in its power range."
The 8V 199 TE21 engines each have a power output of 600 kilowatts and are the most powerful engines of the series. Engines of Series 199 have established themselves in various armoured vehicles, among them the Austrian ULAN and the Spanish Pizarro vehicles. MTU's scope of delivery includes the cooling system and two generators with 550 Amperes with each engine.
MTU is part of Rolls-Royce Power Systems within the Land & Sea division of Rolls-Royce.
Rolls-Royce
28.05.2015

Share...





MIV BOXER manufacture drives UK jobs and prosperity
06.02.2018
Esterline Awarded $21 M by GD UK for Displays and Video Processing Units on SCOUT Vehicle Program
10.09.2015
Rheinmetall to take part in new Scout Specialist Vehicle programme for the British Army
03.08.2015
Thales wins £125M Vehicle Sighting Systems contract for UK MoD Scout SV programme
30.07.2015
SCOUT SV Ajax (Infantry fighting vehicle)
Discuss