GD Receives $219 M for US Army's WIN-T Increment 2 Systems
Category: Defence Industry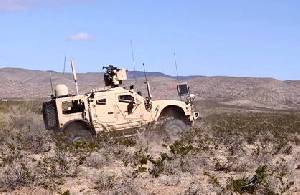 General Dynamics received the first full rate production order from the U.S. Army to build additional Warfighter Information Network – Tactical (WIN-T) Increment 2 systems.
The $219 million order includes the production of more than 300 vehicle-based network communication nodes along with related equipment and materials. WIN-T Increment 2 is the Army's communications backbone providing secure, on-the-move communications, mission command and situational awareness for commanders and their soldiers. The order allows the Army to continue fielding WIN-T Increment 2 to Army units currently scheduled to receive the system.
"WIN-T Increment 2 puts the power of the Soldier's Network into soldiers hands down to the company level, which is vitally important as the Army evolves into a more expeditionary force," said Chris Marzilli, president of General Dynamics Mission Systems. "As full-rate production begins, our engineering teams will continue working closely with the Army to upgrade technology and human-factors design, giving soldiers a decisive information advantage wherever they are called to serve."
WIN-T Increment 2 is integrated into Mine-resistant Ambush Protected (MRAP), High Mobility Multipurpose Wheeled Vehicles (HMMWV) and Stryker vehicles. To date, four division headquarters and 12 brigade combat teams have WIN-T Increment 2. The system successfully served Army units supporting the Security Force Assistance Brigades in Afghanistan by replacing the fixed communications infrastructure that was dismantled when the U.S. military closed its operating bases. Last summer, WIN-T provided the 'communications grid' for humanitarian operations responding to the Ebola epidemic in West Africa.
Sergyi Way
25.06.2015



www.army-guide.com
Share...





KONGSBERG CONCLUDES A $ 54 MILLION CONTRACT FOR THE DELIVERY WEAPON STATIONS TO CANADIAN ARMY
05.06.2020
Germany awards 159 MUSD vehicle contract to GDELS
24.04.2020
Switzerland awards contract to General Dynamics European Land Systems- Mowag to deliver 100 EAGLE 6x6 reconnaissance vehicles
06.12.2019
General Dynamics Land Systems–UK showcases adaptable Foxhound vehicle at DSEI 2019
23.09.2019
General Dynamics Land Systems - GDLS
General Dynamics Ordnance and Tactical Systems
General Dynamics European Land Systems-Mowag GmbH
General Dynamics Santa Barbara Sistemas
General Dynamics Armament Systems
General Dynamics Defence Systems
General Dynamics European Land Systems-Steyr GmbH
US Army Tank-automative & Armaments Command (TACOM)
General Dynamics Armament and Technical Products (GDATP)
General Dynamics Amphibious Operations - GDAMS
General Dynamics Corp., Advanced Information Systems
General Dynamics Robotic Systems - GDRS
General Dynamics Land Systems - GDLS - Canada
General Dynamics European Land Systems - GDELS
Discuss