Curtiss-Wright Receives Award From Lockheed Martin for U.K. Ground Combat Vehicle Weapon Stabilization Program
Category: Contracts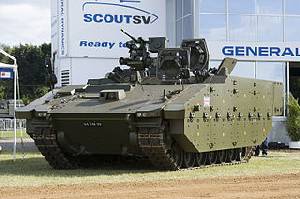 CHARLOTTE, N.C. -- Curtiss-Wright Corporation announced that its Defense Solutions division has received a production award from Lockheed Martin to provide the Turret Drive Servo System (TDSS) for use in the British Army's new SCOUT Specialist Vehicle (SV). Curtiss-Wright's TDSS will provide weapon stabilization for the SCOUT Reconnaissance vehicle, which is expected to replace the older Scimitar vehicle.
This new production award, valued at approximately $49 million, follows Curtiss-Wright's successful completion of the program's demonstration phase, which commenced in 2010 and was valued at $13 million. Under the terms of this new award, shipments are expected to begin in 2015 and continue through 2021.
"Curtiss-Wright is proud to have been selected by Lockheed Martin to provide our electromechanical aiming and stabilization system for use on the SCOUT Reconnaissance vehicle," said David C. Adams, Chairman and CEO of Curtiss-Wright Corporation. "As a leader in the design and development of rugged turret drive systems for military vehicles, we are pleased to participate in this important program for the U.K's. Ministry of Defence."
The TDSS was designed, developed, and will be manufactured at Curtiss-Wright's Drive Technology business in Neuhausen, Switzerland. The products covered by the contract will be delivered to Lockheed Martin where they will be integrated onto the turrets at their manufacturing facility in Ampthill, U.K.
About Curtiss-Wright Corporation
Curtiss-Wright Corporation is a global innovative company that delivers highly engineered, critical function products and services to the commercial, industrial, defense and energy markets. Building on the heritage of Glenn Curtiss and the Wright brothers, Curtiss-Wright has a long tradition of providing reliable solutions through trusted customer relationships.
Curtiss-Wright
20.07.2015

Share...





In Russia conducted winter tests of Combat UGV
21.03.2018
German Army receives 30 Fennek JFST
05.07.2017
FNSS Showcases the Future of Land Platforms at IDEF 2017
09.05.2017
Rheinmetall creates Europe's leading producer of military vehicles
01.02.2016
Curtiss Wright Drive Technology
Curtiss-Wright Antriebstechnik GmbH
Scout (Reconnaissance Vehicle)
Recon Scout Throwbot (Robot, Unmanned Vehicle)
Recon Scout IR (Robot, Unmanned Vehicle)
Recon Scout XT (Robot, Unmanned Vehicle)
PIAP Scout (Robot, Unmanned Vehicle)
SCOUT SV Ajax (Infantry fighting vehicle)
Recon Scout XL (Robot, Unmanned Vehicle)
Recon Scout CT (Robot, Unmanned Vehicle)
Pars 6x6 SCOUT (Reconnaissance Vehicle)
Discuss