BAE Awarded Contract to Refurbish CV90 Vehicles for Sweden
Category: Contracts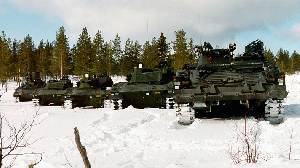 The Swedish government has awarded BAE Systems a contract to refurbish 262 Combat Vehicles 90 (CV90) for the Swedish Army. The company's work will include refurbishing the chassis and upgrading the vehicle's survivability and turrets, as well as enhancing combat system performance. Together, these efforts will help increase the vehicles' lifespan in support of Army capabilities.
"This is a very important program for BAE Systems and the Swedish Army," said Lena Gillström, managing director of BAE Systems Weapons Systems in Karlskoga, which builds the turrets. "With this refurbishment and the introduction of the new Battlefield Management System, these vehicles will take a step into the era of digitized defense to strengthen the Army's capability to meet future threats."
BAE Systems will work closely with the customer throughout the program. Work starts immediately with deliveries beginning in 2018 and running through 2020.
"For the Swedish Army, CV90 has proven its value and capability over the years," said Tommy Gustafsson-Rask, president of BAE Systems Hägglunds AB in Örnsköldsvik. "CV90 is already in service in seven countries and now, with this refurbishment program, we'll further extend the CV90's contribution to Sweden's defense."
CV90 is a family of Swedish tracked combat vehicles designed by FMV, BAE Systems Hägglunds, and BAE Systems Weapons Systems, with more than 4 million engineering hours contributing to the development of this advanced Infantry Fighting Vehicle (IFV). The Swedish version of the IFV is outfitted with a turret equipped with a 40 mm autocannon.
The Swedish Army has a fleet of 509 CV90s. Other countries currently using the vehicle are Norway, Denmark, Finland, Estonia, the Netherlands, and Switzerland.
The contract was awarded to HB Utveckling AB, a joint venture between BAE Systems Bofors AB, part of BAE Systems Weapons Systems, and BAE Systems Hägglunds AB.
BAE Systems
01.04.2016

Share...





BAE Systems` CV90 increases lethality by testing SPIKE LR anti-tank guided missile
14.01.2020
U.S. Marine Corps orders more Amphibious Combat Vehicles
11.11.2019
RAVEN Countermeasure System protects vehicles from missile threats
15.10.2019
BAE Systems unveils Robotic Technology Demonstrator Vehicle at AUSA
15.10.2019
BAE Systems Land Systems Hagglunds AB
BAE SYSTEMS Advanced Technology Centre
BAE SYSTEMS Customer Solutions & Support Land & Sea
BAE SYSTEMS Operational Training
BAE SYSTEMS RO Defence Small Arms Ammunition Division
BAE Systems North America, Land & Information Systems
CV90 (Repair and recovery vehicle)
CV90 Armadillo (Tracked armoured personnel carrier)
CV90 Mk IV (Infantry fighting vehicle)
Discuss