Safran Electronics & Defense unveils new Sigma 30 range of artillery navigation and pointing systems
Category: Exhibitions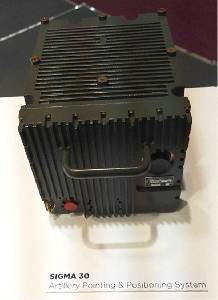 Safran Electronics & Defense is unveiling at Eurosatory 2016 its new range of Sigma 30 artillery inertial navigation and pointing systems, designed to meet armies' emerging needs.
By offering new versions of its well-known Sigma 30 inertial reference systems, Safran Electronics & Defense has come up with a perfect solution to meet artillery units' broad range of accuracy requirements.
The Sigma 30-200 is an economical version, especially well suited to short- and medium-range artillery pieces, as well as air defense weapons. The Sigma 30-800 is designed for heavy artillery and long- and very-long-range radars.
All Sigma 30 units guarantee outstanding availability even in environments with signal jamming, countermeasures or a GPS signal loss. Designed to be integrated in tactical command and coordination networks, Sigma 30 units may also be coupled with ballistic computers. That gives artillery units a significant operational advantage, allowing fast set-up and distributed deployment whether in asymmetric or symmetric engagement scenarios.
The Sigma 30 family is already in service in more than 40 weapon systems in international markets, including the Caesar, Archer and PzH2000 guns, and NATO's single-rocket launcher, where it has demonstrated its capabilities in foreign operations.
Sergyi Way
16.06.2016



www.army-guide.com
Share...





Nexter and Texelis win the lightweight VBMR contract
13.02.2018
Bumar Labedy represents the PT-17 MBT on the MSPO 2017
07.09.2017
Safran's Epsilon One navigation systems chosen by a Middle-East country for combat vehicles
25.02.2017
BAE Systems` Team Challenger® 2 awarded Assessment Phase for Life Extension Project
25.12.2016
Sagem Defense Securite (SAFRAN Group)
Discuss