FATS, Inc. and Lockheed Martin Continue to Collaborate on Virtual Combat Convoy Training Systems
Category: Training And Simulators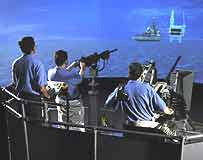 ATLANTA - Nov 9, 2005 - FATS, Inc. announced today that it has received a $1.1 million order from Lockheed Martin to provide simulation training systems for the Virtual Combat Convoy Trainer (VCCT). The U.S. Army Combined Arms Command (CASCOM) ordered one complete VCCT suite from Lockheed Martin for delivery in November 2005.
In 2004, Lockheed Martin and FATS combined their expertise to develop the VCCT for the U.S. Army. The two companies utilized Lockheed Martin's Close Combat Tactical Trainer and FATS virtual small arms trainers, indirect fire trainers and close air support to form the first simulated convoy training system.
"As current events and training needs evolve, it is important that FATS continues to offer industry partners and customers alike the most up-to-date and advanced virtual training solutions and service support available," said Ron Mohling, FATS, Inc. chief executive officer. "This new contract is another great example of a successful, collaborative effort to meet the military's needs."
FATS
16.11.2005

Share...





Lockheed Martin Autonomous Driving System Tops 55,000 Miles in Extended Army Testing
30.11.2017
SAAB Chosen As Sub-Contractor For The Ajax Virtual Crew Turret Trainer
14.10.2017
General Dynamics Land Systems–UK begins AJAX Manned Live Firing Phase of Programme, Using CTAI 40mm Cannon
18.09.2017
General Dynamics Land Systems–UK Will Deliver Innovative State-of-the-art Training Solutions for the AJAX Programme
14.09.2017
Lockheed Martin Electro-Optical Systems
Lockheed Martin Vought Systtems Corporation
Firearms Training System, Inc. (FATS)
Lockheed Martin Missiles and Fire Control
VCCT (Crew training simulator)
Discuss