Supacat teams with Rheinmetall to offer Dutch-built vehicles for Defence-wide Wheeled Vehicle Replacement Programme
Category: Defence Industry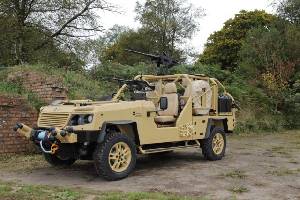 Supacat and Rheinmetall MAN Military Vehicles Netherlands (RMMV NL) have teamed to offer Dutch-built Supacat Protected Vehicles for the 12kN air assault vehicle (AASLT) and a 12kN light-weight protected vehicle requirements as part of the Defence-wide Wheeled Vehicle Replacement Programme (DVOW) with the Dutch Army.
Under the teaming agreement and upon contract award, the Supacat-designed vehicles will be built by RMMV NL and the production line will be supported by their existing supply chain in the Netherlands. The proposed solution includes substantial local industrial content for a fleet of more than 500x 12kN AASLT and 900x 12kN light-weight protected vehicles.
"The teaming agreement is based on a strong collaborative platform and the allocation of responsibilities will be based on 'Best for Customer' criteria," said Phil Applegarth, Head of Supacat. "Both companies have demonstrated their agility in forming a solution that delivers an outstanding in-country product, which supports Dutch jobs for a Dutch requirement."
"Cooperation between Supacat and RMMV meets the requirements of this programme for the Dutch Army," stated Coen van Leeuwen, Managing Director of RMMV NL, adding that, "a proven concept built in the Netherlands and supported by people who know how the Dutch Army operates is bound to succeed."
Supacat, a high-mobility vehicle specialist, stands on an established and successful track record of developing high-quality vehicles for the global defence market. RMMV NL is currently in the process of producing Boxer 8×8 wheeled armoured vehicles for the Dutch Army at the local facility in Ede.
Building on a strong relationship, Supacat and Rheinmetall continue to work together on a number of programmes, including the UK's Challenger 2 Life Extension Programme and Australia's Land 400 Phase 2 programme.
Sergyi Way
13.03.2017



www.army-guide.com
Share...





Supacat, Rheinmetall and SCISYS partnership showcases new High Mobility Integrated Fires Capability
12.09.2019
UK company pioneers autonomous hybrid vehicle for extreme off road operations
12.09.2019
Supacat delivers the first production HMT Extenda Vehicle to Norway
21.06.2018
Rheinmetall set to supply the Australian Defence Force with over 200 Boxer wheeled armoured reconnaissance vehicles
18.03.2018
Discuss