NIOA joins Rheinmetall Defence Land 400 Team
Category: Defence Industry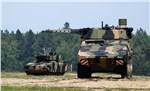 Rheinmetall Defence Australia today announced Brisbane-based NIOA as the company's key supplier of ammunition and armament services for its Land 400 Phase 2 offer to the Commonwealth of Australia.
The partnership between the two companies is underpinned by a commercial relationship spanning 20 years and a shared commitment towards placing Australian Industry Capability at the centre of Rheinmetall's offer to deliver the BOXER CRV to the Australian Defence Force.
Rheinmetall has a longstanding supplier relationship with NIOA through its weapon and munitions arm, Rheinmetall Weapons and Munitions (RWM), built on the delivery of world class ammunition and pyrotechnics to the Australian Defence Force and state and federal police forces.
"Working side by side on our Land 400 Phase 2 offer represents a natural next step in the relationship between Rheinmetall and NIOA," said Rheinmetall Defence Australia Managing Director Andrew Fletcher.
NIOA's indigenous capabilities will also augment the establishment of national infrastructure asset for military vehicles in Australia to underpin a 50-year strategic relationship between the Commonwealth of Australia, the Australian Army and defence industry.
As the largest supplier of military vehicles to the Australian Defence Force, Rheinmetall will establish a military vehicle centre of excellence (MILVEHCOE) which creates a program of continuous design, build and support for military vehicles in Australia and the Asia-Pacific region. This world class facility will draw in a network of suppliers across Australia to deliver products and services to Australia's growing fleet of military vehicles and open the way for these companies to supply Rheinmetall military vehicle programs around the world through the company's Global Supply Chain.
Rheinmetall AG
03.05.2017

Share...





Rheinmetall MAN Survivor R special protected vehicle on show at GPEC 2020 international security exhibition in Frankfurt/Main
24.02.2020
Rheinmetall books ˆ110 million-contract to extend the service life of the Marder infantry fighting vehicle for the Bundeswehr
21.01.2020
Rheinmetall to Feature Next Generation 130mm Tank Gun at AUSA Global
04.11.2019
Rheinmetall Presents Next Gen "Wiesel Wingman" solution for Robotic Combat Vehicle – Light at AUSA 2019
04.11.2019
Rheinmetall MAN Military Vehicles GmbH - RMMV
Rheinmetall Verseidag Ballistic Protection GmbH
Rheinmetall Soldier Electronics GmbH
Rheinmetall AG, Representative Office Abu Dhabi
Rheinmetall Waffe Munition GmbH
Rheinmetall Defence Electronics GmbH
Rheinmetall Waffe Munition Arges GmbH
American Rheinmetall Munitions, Inc. - ARM
Rheinmetall Denel Munition (Pty) Ltd - RDM
Discuss