The 8x8 CAESAR® artillery system has been selected by Denmark to equip the Danish land forces
Category: Contracts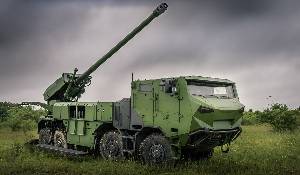 Versailles -- Nexter, the leading French land defense systems manufacturer has been awarded a contract by the Danish Defence Acquisition and Logistics Organization (DALO) for the supply of 15 (plus 6 as an option) 8x8 CAESAR® artillery systems to the Danish Army.
The CAESAR® 155mm wheeled self-propelled howitzer has been constantly deployed by the French Forces in combat operations since its entry into service in 2009: in Lebanon, Afghanistan, Mali and currently in Iraq. The CAESAR® is recognized worldwide as striking the best balance between the simplicity of towed artillery and the mobility and survivability of a self-propelled system.
It provides customers with a highly flexible, deployable and affordable full spectrum solution for indirect fire support. Not only is the CAESAR® very accurate, it also has the lowest maintenance costs on the market for a mobile artillery system. Over 300 CAESAR® systems have already been ordered by 5 different countries.
With the 8x8 CAESAR® configuration, Nexter offers an artillery system that meets the current and future requirements of the Danish army with an improved operational autonomy and a platform offering significant growth potential for further adaptation. The involvement of Danish industry in the fulfilment of the contract will be essential, in particular for the 10-year sustainment of the Danish CAESAR® systems. The acquisition of CAESAR® by the Danish Army will also naturally provide with opportunities to further deepen the already strong cooperation between the Danish and French armies.
"We are proud to support such a longstanding ally of the French Army and member of the NATO alliance" commented Stephane Mayer, CEO of the Nexter Group. He also added "This first success for the 8x8 CAESAR® configuration confirms the relevance of our vision and strengthens our dedication to meeting the fast-moving and specific needs of our customers".
Sergyi Way
23.05.2017



www.army-guide.com
Share...





TEMPORARY COMPANY GROUPING EBMR MEETS ITS DELIVERY OBJECTIVES FOR 2019
14.01.2020
CZECH REPUBLIC SIGNED THE ACQUISITION CONTRACT FOR 62 TITUS
30.07.2019
DALO Contracts Systematic To Enhance Artillery System Combat Effectiveness
17.07.2018
KMW and Nexter join forces on Main Ground Combat System
21.06.2018
CAESAR (Ammunition resupply vehicle)
CAESAR 8x8 (Self-propelled gun)
Discuss