Navistar Defense Awarded $18.8 Million To Provide Medium Tactical Vehicles For Iraq
Category: Defence Industry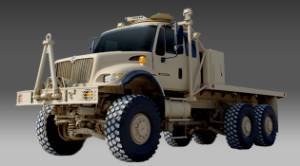 The U.S. Army recently awarded Navistar Defense, LLC a foreign military sales contract valued at $18.8 million to provide 115 International® 7000-MV Medium Tactical Vehicles (MTV) to Iraq. 
Navistar Defense MTVs are based on the highly multipurpose International® WorkStar® severe-duty platform designed for both off and on-road operation, and is the backbone for the company's MaxxPro® Mine Resistant Ambush Protected vehicle. 
"Since 2004, Navistar Defense has delivered nearly 7,000 trucks and buses to Iraq through foreign military sales contracts," said Kevin Thomas, president of Navistar Defense. "As a proven partner, we're proud to supply the Iraq Army with a highly versatile and easy-to-maintain 7000-series tactical military support truck that offers greater efficiencies in support, spare parts, training, and operations."
The majority of the work will take place at the company's West Point, Mississippi assembly plant. Delivery is planned to be completed in January 2018.
Sergyi Way
17.06.2017



www.army-guide.com
Share...





Navistar Defense Awarded $475 Million To Support Allied Forces MRAP Requirements
11.03.2017
Navistar Displays Latest MaxxPro MRAP and Medium Tactical Vehicle
13.10.2015
Navistar Defense Debuts MXT Recovery Variant At DVD
27.07.2013
SUPACAT And NAVISTAR DEFENCE Sign MoU Providing Future Joint Support To The U.K. MoD Protected Mobility Fleet
19.07.2013
Discuss