Supacat Involvement In Rheinmetall Lance Turret Built
Category: Defence Industry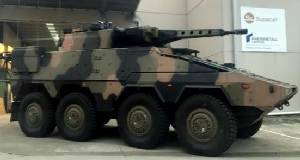 Three Victorian companies have joined with Rheinmetall Defence Australia to assemble and test the first LANCE two-man turret in Australia as part of bidding for the Land 400 Phase 2 Combat Reconnaissance Vehicle (CRV) contract.
Rheinmetall is using the LANCE turret assembly to determine which Australian companies can deliver skills, parts and expertise in the manufacture and assembly of turrets in Australia.
Supacat has been an important part of the build process and is Rheinmetall's teaming partner in the Land 400 Phase 2 Risk Mitigation Activities currently being conducted by the Commonwealth of Australia. Rheinmetall has co-located its RMA operation at Supacat's Port Melbourne facilities and the BOXER CRV team comprises senior Supacat personnel.
Victorian companies Able Industries Engineering and Nezkot Precision Tooling and Engineering have each played an important role in the construction of the turret by supplying products and services during the assembly process.
"Much of this work could have been conducted in manufacturing facilities in Europe but we have found each of the Victorian companies deliver a service and capability that meets or exceeds our needs to successfully compete for the Land 400 program," said Rheinmetall Defence Australia Managing Director Andrew Fletcher.
Supacat
05.07.2017

Share...





Supacat, Rheinmetall and SCISYS partnership showcases new High Mobility Integrated Fires Capability
12.09.2019
UK company pioneers autonomous hybrid vehicle for extreme off road operations
12.09.2019
Raytheon, Rheinmetall join forces for US Army's Next-Gen Combat Vehicle competition
14.10.2018
Australia Orders 211 Boxer Wheeled Armoured Vehicles
17.08.2018
V.B.L. Lance-Grenades (Reconnaissance Vehicle)
LANCE RC (Remote controlled weapon station)
Discuss