General Dynamics Receives Contracts to Upgrade Abrams Main Battle Tanks
Category: Contracts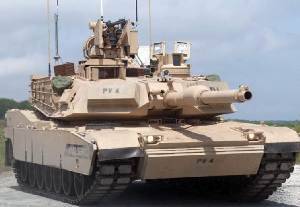 General Dynamics Land Systems, a business unit of General Dynamics, recently received two contract awards from the U.S. Army for Abrams main battle tank upgrades, which will boost the platform's capabilities and help the Army lead the way into the future.
The company will design, develop and integrate multiple engineering changes into the Abrams M1A2 System Enhancement Package Version 3 (SEPv3), creating a SEPv4 and further modernizing the tanks. Abrams main battle tanks are produced at the Joint Systems Manufacturing Center in Lima, Ohio.
The first contract is for SEPv4 upgrades, which include the Commander's Primary Sight (formerly known as the Commander's Independent Thermal Viewer), an improved Gunner's Primary Sight and enhancements to sensors, lethality and survivability. General Dynamics Land Systems will deliver seven prototype M1A2 SEPv4 tanks to the Army. The contract has an initial value of $311 million. Work will be performed in Sterling Heights, Mich.; Lima; Scranton, Pa.; and Tallahassee, Fla.
The second award was a $270 million contract from the U.S. Army Tank Automotive Command to produce 45 Abrams M1A2 SEPv3 tanks. The first pilot vehicles, which feature technological advancements in communications, reliability, sustainment and fuel efficiency and upgraded armor, are expected to roll off the production line in fall 2017. Work will be performed in Lima, Scranton, Tallahassee and Anniston, Ala.
General Dynamics
07.09.2017

Share...





KONGSBERG CONCLUDES A $ 54 MILLION CONTRACT FOR THE DELIVERY WEAPON STATIONS TO CANADIAN ARMY
05.06.2020
Germany awards 159 MUSD vehicle contract to GDELS
24.04.2020
Switzerland awards contract to General Dynamics European Land Systems- Mowag to deliver 100 EAGLE 6x6 reconnaissance vehicles
06.12.2019
General Dynamics Land Systems–UK showcases adaptable Foxhound vehicle at DSEI 2019
23.09.2019
General Dynamics Land Systems - GDLS
General Dynamics Ordnance and Tactical Systems
General Dynamics European Land Systems-Mowag GmbH
General Dynamics Santa Barbara Sistemas
General Dynamics Armament Systems
General Dynamics Defence Systems
General Dynamics European Land Systems-Steyr GmbH
General Dynamics Armament and Technical Products (GDATP)
General Dynamics Amphibious Operations - GDAMS
General Dynamics Corp., Advanced Information Systems
General Dynamics Robotic Systems - GDRS
General Dynamics Land Systems - GDLS - Canada
General Dynamics European Land Systems - GDELS
M1A2 Abrams (Main battle tank)
M1A2 Abrams (Modernization of the vehicle)
M1A2 SEP Abrams (Modernization of the vehicle)
M1A2 TUSK Abrams (Modernization of the vehicle)
Discuss