Supacat unveils LRV600 at DSEi Demonstrating LRV flexibility and increased capability in 6×6 configuration
Category: Exhibitions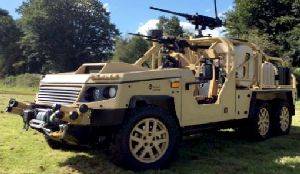 Supacat is unveiling LRV600, the 6×6 configuration of its high performance off-road Light Reconnaissance Vehicle (LRV), at DSEi offering users the ability to increase their capability and payload, whilst remaining air portable from inside a CH-47 Chinook.
Developed for rapid intervention operations in harsh environments, the LRV platform has the distinctive design feature of being convertible between 6×6 and 4×4, offering users the flexibility to reconfigure the vehicle to meet different operational requirements within hours by the addition of a 3rd axle module.
LRV600 has a maximum Gross Vehicle Weight (GVW) of 5500kg and offers a maximum payload of 2350kg, over 50% more than the LRV400 Mk2 configuration. LRV400 Mk2's maximum GVW is 4200kg and maximum payload 1500kg. LRV600 is 1m longer at 5.65m but can be shortened to less than 5.5m if required. Both LRV600 and LRV400 Mk2 carry a crew of 3 or 4 and achieve speeds of up to 100mph/160km.
"The Supacat LRV600 demonstrates the unique flexibility of the LRV platform enabling users to convert between 4×4 and 6×6 depending on their mission. LRV600's increased capability and air portability also sets it apart as a tactical capability for special operations", said Phil Applegarth, Head of Supacat, part of the SC Group.
LRV 600 will have a new weapon system fitted at DSEi which is a first for land based, special forces vehicles of this type. Working together with the US company, Arnold Defense, and a team of industry experts, Supacat has integrated the 'FLETCHER' 2.75-inch laser guided rocket system in a demonstration of the newly launched FLETCHER concept. The system provides the user with firepower that would otherwise involve calling in air or aviation assets.
In developing LRV Supacat has taken the rolling chassis and automotive systems from the Land Rover Discovery and adapted them for specialist military applications to offer unrivalled performance for a vehicle of its size and weight class. Using a mass-produced automotive platform delivers reliability, safety and cost efficiencies. In addition, the vehicle is ITAR free and can be supported via the existing globally available spares network enhanced by Supacat's established military vehicle through life support service. LRV has been developed with a common user interface to its Supacat HMT `Jackal` to maximise inter-operability and minimise training.
LRV has front and rear independent double wishbone air suspension offering variable ride height including bump stops providing a highly stable firing platform. Powered by a V6 3.0 turbo diesel providing 256 bhp and 600Nm Torque giving a high power to weight ratio, it has an 8 speed automatic transmission and high and low permanent 4WD with centre diff lock.
Supacat
11.09.2017

Share...





Supacat, Rheinmetall and SCISYS partnership showcases new High Mobility Integrated Fires Capability
12.09.2019
UK company pioneers autonomous hybrid vehicle for extreme off road operations
12.09.2019
Supacat delivers the first production HMT Extenda Vehicle to Norway
21.06.2018
Rheinmetall set to supply the Australian Defence Force with over 200 Boxer wheeled armoured reconnaissance vehicles
18.03.2018
Discuss