Rockwell Collins Launches NavHub Navigation System with German Armed Forces
Category: Defence Industry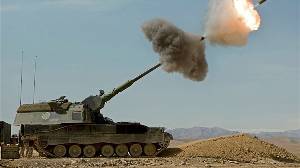 Enlarge image - Rockwell Collins Launches NavHub Navigation System with German Armed Forces
enlarge image click to enlarge
The German Ministry of Defense selected Rockwell Collins' NavHub navigation system to provide Global Navigation Satellite System (GNSS) availability to a variety of its military vehicles.
The NavHub system serves as a next-generation GNSS- and Military-Code (M-Code)-enabled solution for the German Armed Forces. Customizable for ground and maritime platforms, NavHub provides a variety of vehicle interfaces, meets the standards required by military vehicle operators, and allows users to receive data from multiple secure and open-service GNSS constellations to simultaneously confirm the navigational solution. Access to multi-constellation GNSS and GPS M-Code will provide a significantly enhanced navigational solution over the current GPS-only solution.
"NavHub meets the critical mission need for accurate navigation support for fast-moving platforms and challenging environments," said Claude Alber, vice president and managing director, Europe, Middle East and Africa for Rockwell Collins. "Our military GNSS receivers will provide significantly enhanced navigational capabilities to military vehicles and will mitigate terrain, forest and urban degradation as it will raise the number of satellites used from 28 to well over 100."
Work under the contract will be performed in Rockwell Collins' facilities in in Europe.
Rockwell Collins
14.09.2017

Share...





Rockwell Collins to upgrade Hawkei Protected Mobility Vehicle-Light system
03.03.2017
Oshkosh Truck Unveils Next Generation of Unmanned Defense Logistics Vehicle
27.01.2006
Oshkosh Truck's Unmanned Vehicle Qualifies for Pentagon's $2 Million Desert Race Team; TerraMax(TM) One of 20 teams to Compete in DARPA Grand Challenge
06.10.2005
UK Ministry Of Defence Awards MBDA Networked Weapons Research Contract
29.09.2005
Rockwell Collins Government Systems
Kaiser Electronics a Rockwell Collins business
Discuss