Team Polaris® Stands Out in Army SMET Program
Category: Robots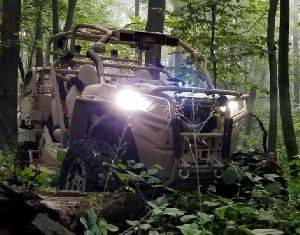 MINNEAPOLIS and ALBUQUERQUE, N.M. -- Polaris Industries Inc., Applied Research Associates Inc. (ARA) and Neya Systems LLC have teamed to provide the U.S. Army with an elite platform for the Squad Multipurpose Equipment Transport (SMET) program: the Team Polaris MRZR® X, that will evolve squad mobility with advanced unmanned systems technology from ARA and the pioneering and unsurpassed autonomous systems behavior of Neya Systems.
"The MRZR X provides a modular, multi-mission platform for the U.S. Army's SMET program to provide squad overmatch, no matter what the mission. It is based on the very familiar Polaris MRZR platform – and creates an optionally manned platform," said John Olson, PhD, vice president and general manager of Polaris Government and Defense. "Off-road autonomy is challenging, but no one does off-road better than Polaris. And absolutely no one does off-road robotics and autonomy better than ARA and Neya Systems."
The modular MRZR is a prolific and preferred platform among infantry units in the U.S. and more than 25 allied countries, which helps make its integration and the transition from manned to unmanned vehicles easier for the Army and the soldier. The MRZR X maintains the same mission profile the Army is accustomed to, with additional capabilities for the soldiers that exceed SMET base requirements.
ARA is an employee-owned scientific research and engineering company that acquired Neya Systems earlier this year. Neya Systems is known for their development of unmanned systems for defense, homeland security, and commercial users. Neya Systems staff, under the continued leadership of Parag Batavia, PhD, have been recognized worldwide for their contributions in advanced unmanned systems technology, including Batavia's development of open architecture used universally by the Department of Defense.
"With the combined skills and expertise of Neya Systems and ARA, we're able to bring world-class robotic solutions to Team Polaris to provide the U.S. soldier with advanced capabilities, a lightened physical load, and increased situational awareness to equip them for the multi-domain battlefield," says ARA's President and CEO, Rob Sues, PhD.
Polaris
25.09.2017

Share...





U.S. Army Purchases 20 MRZR® X Vehicles for Soldier Trials
18.05.2018
U.S. Marine Corps Awards Contract For Additional Polaris® MRZR® D Utility Task Vehicles
20.09.2017
Polaris Wins Canadian Special Forces Ultra-Light Combat Vehicle Contract
03.02.2017
Polaris Defense Unveils Turbo Diesel MRZR
19.05.2016
MRZR X (Robot, Unmanned Vehicle)
Discuss