Uralvagonzavod has prepared a new tank engine for serial production
Category: Defence Industry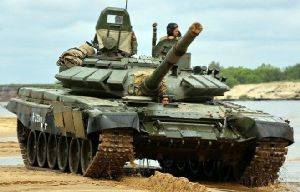 Uralvagonzavod (part of the Rostekh Corporation) has published information that after the successful completion of all the tests it prepared for serial production new V-92S2F tank engine.
V-92S2F is forced diesel engine with the power of 1130 h.p., designed for integration in the upgraded and new T-72B3 tanks.
The V-92S2F is the result of a deep modernization of the V-92C2 engine, with which it has a high level of unification: it has the same overall dimensions and is installed in the power compartment of the main battle tank without any modifications of the hull.
But in comparison with the V-92S2, it has a more powerful crankcase, crankshaft, conrod-piston group, improved turbocharger, exhaust system and cooling system. The heads of the cylinder block are cast from a heat resistant aluminum alloy. The fuel system provides high efficiency and has a power limiting mechanism that reduces the load on the diesel engine when the temperature extremes are reached.
Uralvagonzavod
29.11.2017

Share...





ARMATA MBT - problems 2020
24.12.2020
Problems of Russian land military vehicles with diesel engines
24.12.2020
Problems of Russian Vacuum APFSDS-T projectile
25.01.2019
BMPT Terminator will receive a remote blasting ammunition
07.06.2018
JSC Research and production corporation UralVagonZavod
Discuss