Jenoptik Participating in the Modernization of the Leopard 2 Tank for the Bundeswehr
Category: Contracts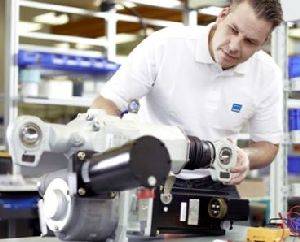 The Jenoptik Defense & Civil Systems segment will provide digital electric gun turret drive systems to a total value of more than 12 million euros.
Deliveries will start in mid-2018 and continue until 2022. Jenoptik´s Electric Gun Turret Drive Systems GTdrive® are for the most part maintenance-free and generate less waste heat in the tank interior. They generally align the turret and weapon of the tank stably while driving.
The refitting of the Leopard 2 tanks is being carried out by a large German systems provider for the Bundeswehr. With state-of-the-art electrical gun turret drives, Jenoptik is the global partner for the upgrade of the Leopard 2, having also received orders in recent years for the modernization and new production programs of the tank. Jenoptik is working closely with national and international system providers on the basis of long-term partnerships.
Stabilization systems for sensors and weapon systems on vehicle-based platforms
Stabilization systems compensate for vehicle movements, allowing you to continuously keep your target in sight at all time.
The electromechanical stabilization systems align and move sensors or weapon systems mounted on vehicle-based platforms. These platforms could be on military ground vehicles, but also on ships or helicopters. Ground vehicles are often deployed on uneven terrain, while helicopters have to cope with turbulence. The stabilization technology from Jenoptik responds with precision, speed and accuracy, compensating for vehicle movements and thus allowing a target to be aimed at continuously, providing optimum support for your defense.
Jenoptik develops and produces compact, stabilized carrier platforms, drive systems for turrets and weapons, and mirror head units to stabilize the line of sight on vehicles. This technologically sophisticated products has proven quality in military and civilian applications over many years.
Jenoptik design completely new systems or upgrade existing stabilization systems to meet your exact specifications. In doing so, it supply customer with an optimized system of electric drive technology (motors and gears) and sensors (gyros and acceleration sensors), as well as control technology (power electronics) – all from a single source.
Jenoptik products are characterized by fast and precise position control, excellent reliability and high level of durability. It consume minimal energy, as well as being exceptionally low maintenance.
Jenoptiks stabilization systems have been used in various platforms for a number of years, including the Leopard 2, the Puma and the NATO NH90 transport helicopter.
Jenoptik
02.01.2018

Share...





Denmark and Germany receive the latest versions of the LEOPARD 2
07.11.2019
Rheinmetall to Feature Next Generation 130mm Tank Gun at AUSA Global
04.11.2019
Multimillion-euro order from Hungary
02.10.2019
The Dutch armed forces select Rheinmetall to modernize their Bergepanzer 3 Büffel
17.05.2019
Jenoptik Defense & Civil Systems
Leopard 2 Strv 122 (Main battle tank)
Leopard 2 Strv 121 (Main battle tank)
Leopard 2/Pz87 (Main battle tank)
Lahat Leopard 2 (Modernization of the vehicle)
Discuss