Kazakhstan Paramount Engineering's 8x8 combat vehicle nearing service entry
Category: Defence Industry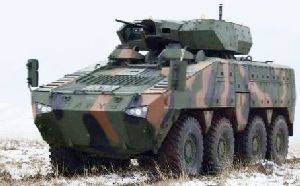 Paramount Group, the African-based global defence and aerospace company, and its joint venture in Kazakhstan, Kazakhstan Paramount Engineering (KPE), announced that the Ministry of Defence of Kazakhstan is in the final stages of the evaluation of the Barys 8x8 combat vehicle ahead of acceptance into service by the country's armed forces.
The Barys (Snow Leopard in the Kazakh language) which is based on Paramount Group's Mbombe 8 represents the pinnacle of land system technologies and was developed to meet the increasing demand for multi-role, high mobility and mine-hardened platforms.
The winter trials included day and night firing and the Barys 8x8 vehicle was equipped with a Shipunov 2A42 30 mm automatic cannon and a 7.62mm machine gun jointly manufactured by Kazakhstan's 'KAE', which manufactures electro-optic defence equipment and Turkish defence company, Aselsan.
Winter trials of Barys 8 started during early December 2017 with a series of intensive factory acceptance tests to finally evaluate and optimise the complete weapon system, platform and turret. The trails were conducted at a Military tank test polygon in central Kazakhstan.
Johan Delport, Director of the KPE factory in Astana, said: "The most severe winter conditions prevailed during testing, similar to conditions found in Siberia. During this period the temperature dropped to -45 Celsius with a chill factor of minus 60 Celsius, resulting in serious challenges to man and machine while conquering up to 750mm of soft snow.
"During such conditions every smallest detail and subsystem could be evaluated extensively. Items such as glass heating for de-ice and de-misting, engine heating before starting, batteries, cabin heating, electrical functions, steering, and suspension have been successfully tested. The vehicle performed exceptionally throughout the trials."
The design of this vehicle allows for the fitment of a very large array of weapon systems. This enables the vehicle to be customised for armed forces all around the world.
The weapon system has been evaluated during both day and night firing sessions, static as well as firing on the move using the stabilisation mode. The 30mm canon which has ranges beyond 2000 meters has been demonstrated successfully under the severe ambient conditions.
The 8x8 combat vehicle and other Paramount armoured vehicles will be produced at the 15 000m2 KPE armoured vehicle factory in Astana – the largest armoured vehicle factory in Central Asia and the first defence manufacturing plant with this scale of capability in Kazakhstan. It has a capacity of more than 200 vehicles per year for the production of the full range of Paramount's armoured vehicles with bespoke modifications for local conditions.
Ivor Ichikowitz, Founder and Executive Chairman of Paramount Group said: "Building our combat vehicles through local partnerships in Kazakhstan shows that we can produce highly advanced technologies anywhere in the world. One of the most significant trends in today's defence industry is the increasing requirement of sovereign nations to develop their own defence equipment.
"Building defence industrial eco systems, inside our customer countries, through strategic alliances have been the cornerstone of our industrial philosophy. Our partnerships have driven innovation, technology transfer, local manufacturing, skills development and jobs around the world."
The Barys 8 is the winterised version of Paramount's Mbombe 8 that employs an innovative new form of construction to give unprecedented levels of protection, while keeping profile to a minimum. The 8x8 also draws on the company's experience of designing the highly advanced Mbombe family of armoured vehicles.
The Mbombe family of 4x4, 6x6 and 8x8 vehicles share over 80% of common components to reduce through life costs. This commonality offers significant cost benefits to armed forces due to greater efficiencies and significant savings in maintenance and logistical support.
In addition to the Barys, KPE has been ramping up production and deliveries of the Arlan (the localised version of Paramount Group's Marauder APC) to the armed forces in Kazakhstan. In November 2017 Paramount Group delivered more Arlan armoured vehicles to Kazakhstan's Special Forces. The latest delivery of the Arlan will see the vehicles in operation with the Ministry of Defence, Special Forces and other law enforcement agencies.
Key features of the Mbombe 8/Barys 8 include:
Gross weight of 28 tonnes and kerb weight of 19 tonnes
Payload of 9 tonnes which covers weapon system, ammunition, crew and supplies
Powered by a 6 cylinder engine turbo charged diesel engine
Six speed automatic transmission
High levels of ballistic and mine protection: ballistic protection: STANAG 4569 Level 3+ and blast protection: STANAG 4569 Level 4a and 4b
Wide range of turrets and weapon stations can be integrated
The cooling systems and driveline have been tested and proven in winter conditions of -55 Celsius and desert conditions of +55 Celsius
Large internal volume due to position of powerpack
Paramount
14.03.2018

Share...





Production of ALAN armored cars is in place in Kazakhstan
10.12.2017
Factory Tests Barys 8x8 Armored Vehicle Started In Kazakhstan
23.11.2017
Paramount Group Unveils New Generation 8x8 Infantry Combat Vehicle For Global Defence Market
03.06.2016
Paramount Group to exhibit latest defence technology at IDEX 2013
16.02.2013
Kazakhstan Paramount Engineering LLP
Barys 8x8 (Wheeled armoured personnel carrier)
Barys 6x6 (Wheeled armoured personnel carrier)
Discuss