With the TITUS® mission orchestration, Nexter asserts its position as a global player in the digitization of the land defense
Category: Exhibitions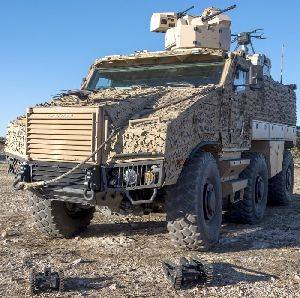 Eurosatory, Parc des Expositions Paris-Nord Villepinte, June 12, 2018 - Nexter, a company of KNDS, asserts its position as a global land defense player in the digital world by presenting advanced digital solutions and systems on this edition of Eurosatory.
Through the TITUS® mission orchestration, the group demonstrates all its expertise to combine the best of technology in the field of vetronics, connected vehicles (continuity of combat mounted/dismounted), onboard simulation, robotics and command systems, for greater operational efficiency.
Mastering the entire spectrum of the land sector gives Nexter the ability to identify a large part of the field of action in modern hybrid conflicts (mixed use of autonomous platforms and manned devices) and to better respond to asymmetric threats. Thanks to its integrating architect skills, the group offers operators increased operational capacities: on the ground with a Nerva® robot (IED detection, suspicious object ...), upwards with a captive drone (charging autonomy, cyber protection) and further more with an autonomous drone. The operator, equipped with a connected headset and a tablet, teleoperates weapons systems (medium-sized cupola) from inside or outside of the combat vehicle. The reported informations are available for the digitized command post, allowing faster decision-making and keeping pace with the maneuver.
With the future integration of the OPTIO® robotic system to the TITUS® mission orchestration, Nexter group will have taken a new step towards the development of hybrid operating systems in which the supervised autonomy of drones and satellite robots provides the means (sensors and effectors) of an even higher operational efficiency to the humans.
Sergyi Way
20.06.2018



www.army-guide.com
Share...





TEMPORARY COMPANY GROUPING EBMR MEETS ITS DELIVERY OBJECTIVES FOR 2019
14.01.2020
CZECH REPUBLIC SIGNED THE ACQUISITION CONTRACT FOR 62 TITUS
30.07.2019
KMW and Nexter join forces on Main Ground Combat System
21.06.2018
Nexter, a company of KNDS, presents its strategy in the field of robots
18.06.2018
TITUS (Wheeled armoured personnel carrier)
Andros Titus (Robot, Unmanned Vehicle)
Discuss