General Dynamics Receives Contract to Upgrade U.S. Army Strykers to A1 Configuration
Category: Defence Industry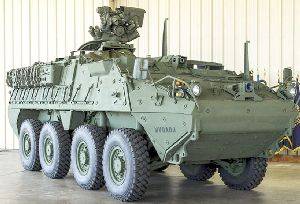 STERLING HEIGHTS, Mich. -- The U.S. Army has awarded General Dynamics Land Systems a $258 million contract modification to upgrade 116 Stryker flat-bottom vehicles to the Stryker A1 configuration.
The Stryker A1 builds upon the combat-proven Double-V Hull (DVH) configuration, providing unprecedented survivability against mines and improvised explosive devices. In addition to the DVH survivability, the Stryker A1 provides a 450-horsepower engine, 60,000-pound suspension, 910-amp alternator and in-vehicle network. The Stryker A1 Infantry Carrier Vehicle is one of the most versatile, most mobile and safest personnel carriers in the entire Army inventory.
Work will be performed in Lima, Ohio; Anniston, Ala.; Tallahassee, Fla.; and Sterling Heights; with an estimated completion date of March 2020.
Land Systems is a business unit of General Dynamics (NYSE: GD). General Dynamics Land Systems provides innovative design, engineering, technology, production and full life-cycle support for land combat vehicles around the globe. The company's extensive experience, customer-first focus and seasoned supply chain network provide unmatched capabilities to the U.S. military and its allies.
General Dynamics
28.06.2018

Share...





KONGSBERG CONCLUDES A $ 54 MILLION CONTRACT FOR THE DELIVERY WEAPON STATIONS TO CANADIAN ARMY
05.06.2020
Germany awards 159 MUSD vehicle contract to GDELS
24.04.2020
Switzerland awards contract to General Dynamics European Land Systems- Mowag to deliver 100 EAGLE 6x6 reconnaissance vehicles
06.12.2019
General Dynamics Land Systems–UK showcases adaptable Foxhound vehicle at DSEI 2019
23.09.2019
General Dynamics Land Systems - GDLS
General Dynamics Ordnance and Tactical Systems
General Dynamics European Land Systems-Mowag GmbH
General Dynamics Santa Barbara Sistemas
General Dynamics Armament Systems
General Dynamics Defence Systems
General Dynamics European Land Systems-Steyr GmbH
General Dynamics Armament and Technical Products (GDATP)
General Dynamics Amphibious Operations - GDAMS
General Dynamics Corp., Advanced Information Systems
General Dynamics Robotic Systems - GDRS
General Dynamics Land Systems - GDLS - Canada
General Dynamics European Land Systems - GDELS
STRYKER ICV (Wheeled armoured personnel carrier)
STRYKER M1129 MC (Mortar vehicle)
Stryker ICV (Wheeled armoured personnel carrier)
STRYKER (Self-propelled howitzer)
STRYKER IFV M1126 (Infantry fighting vehicle)
STRYKER M1127 RV (Wheeled armoured personnel carrier)
STRYKER M1130 CV (Command vehicle)
STRYKER M1132 ECV (Engineer vehicle)
STRYKER M1133 (Ambulance vehicle)
STRYKER M1134 (Self-propelled antitank guided missile system)
STRYKER M1135 NBCRV (Nuclear/biological/chemical reconnaissance vehicle)
STRYKER M1132 (Mine clearing vehicle)
STRYKER XM1128 MGS (Fire support vehicle)
STRYKER XM1134 (Self-propelled antitank guided missile system)
STRYKER M1131 FSV (Fire support vehicle)
STRYKER M1133 MEV (Ambulance vehicle)
ŐĚ1296 Stryker ICV Dragoon (Modernization of the vehicle)
Discuss