Uran-9 Combat Robots began to enter into service in the Armed Forces of Russia
Category: Robots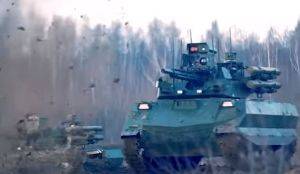 The Uran-9 Unmanned Ground Vehicle, which is a 12-ton combat robot with remote control and the use of artificial intelligence, began enter into service in the Armed Forces of Russia. The general director of the Kalashnikov concern, Vladimir Dmitriev, informed the media about this.
Now comes the end of the serial production of the first batch. According to Dmitriev, Uran-9 is the first combat armored unmanned ground vehicle that will become the base for the family, many scientific and technical solutions have been worked out on it, which will be developed further.
During the interview, the head of the Kalashnikov Concern said that the manufacturer of the combat robot, company 766 UPTK, is the property of the Ministry of Defense of the Russian Federation, but is controlled by AOK Kalashnikov.
The Uran-9 Combat Robot is intended for reconnaissance, fire support of military operations, destruction of enemy armored vehicles and their manpower. The weapons of the UGV is anti-tank guided missiles, a Shmel M rocket flamethrower, 30-mm automatic gun (2A72 modification) and a 7.62-mm machine gun.
The Kalashnikov Concern is the most powerful manufacturer in Russia of various types of military weapons, guided artillery rounds and various types of high-precision weapons. The concernís enterprises produce many modifications of military and civilian complexes.
Sergyi Way
25.01.2019



www.army-guide.com
Share...





Problems of Russian land military vehicles with diesel engines
24.12.2020
In Russia conducted winter tests of Combat UGV
21.03.2018
Three-axis amphibious armored truck was created in Belarus
20.03.2018
Soratnik UCGV was tested in Syria
21.01.2018
MBDU Kalashnikov (Remote controlled weapon station)
Uran-9 CMRC (Robot, Unmanned Vehicle)
Discuss