Six FOX NBC reconnaissance vehicles go to the Netherlands - State-of-the-art NBC detection technology from Rheinmetall
Category: Defence Industry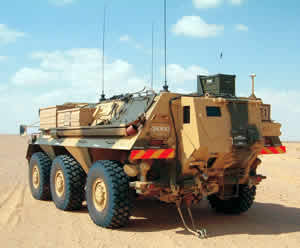 Rheinmetall Landsysteme has just delivered six highly advanced FOX NBC reconnaissance vehicles to the Dutch armed forces. In a ceremony at Rheinmetall Landsysteme GmbH's Kassel plant on January 25, 2006, Cees van der Knaap, the Dutch Deputy Minister of Defence, was presented with a symbolic key to the vehicles ahead of their official transfer to the NBC Reconnaissance Company of the Dutch armed forces.
Headquartered in Kiel, Rheinmetall Landsysteme GmbH is an internationally leading maker of tracked and wheeled armoured vehicles as well as the world's top supplier of military systems for detecting nuclear, biological and chemical contamination. The company is a subsidiary of the Rheinmetall Group of Düsseldorf.
Ordered at the end of 2003, these new FOX vehicles give the NBC reconnaissance units of the Dutch armed forces a NBC detection capability that places them at the global cutting edge.
The NBC variant of Rheinmetall's tried-and-tested FOX has proved invaluable in crisis regions around the globe. So far, the company has made more than 260 NBC-RS FOX vehicles, nearly half of which are in service with the US armed forces; other NBC-RS FOX user nations include Germany, Norway, the United Kingdom and Saudi Arabia. In March 2005, the United Arab Emirates placed an order for 32 systems as well, which will be delivered over the next four years. The systems ordered by the UAE will be the first to be able to confirm unequivocally the presence of biological warfare agents and other biological contaminants.
Packed with advanced equipment, the NBC-RS FOX is based on the highly mobile FOX armoured transport vehicle, some 1,200 of which have already been built. Thanks to its highly integrated sensor and analysis systems, it is capable of detecting a diverse array of nuclear and chemical hazards, enabling swift protective countermeasures to be taken.
Rheinmetall Landsysteme has also developed a mobile field laboratory for the German Bundeswehr, which can be rapidly deployed by road, rail, sea or air. During numerous operations both at home and abroad, this NBC field laboratory has proved to be a very efficient tool for identifying all types of NBC warfare agents as well as conventional pollutants. The system is currently being introduced into the Swedish armed forces as well.
In the civil defence domain, Rheinmetall Landsysteme has thus far supplied 372 NBC detection vehicles to German fire brigades. They make an important contribution to overall preparedness, providing Germany's civilian population with the best possible protection from threats of this kind.
Rheinmetall DeTec AG
09.02.2006

Share...





The Dutch armed forces select Rheinmetall to modernize their Bergepanzer 3 Büffel
17.05.2019
Rheinmetall Mission Master Dominates European Ground Robotic Systems Competition at ELROB 2018
04.11.2018
Triple-digit million euro contract for Rheinmetall
14.10.2018
Raytheon, Rheinmetall join forces for US Army's Next-Gen Combat Vehicle competition
14.10.2018
Rheinmetall MAN Military Vehicles GmbH - RMMV
Rheinmetall Verseidag Ballistic Protection GmbH
Rheinmetall Soldier Electronics GmbH
Rheinmetall AG, Representative Office Abu Dhabi
Rheinmetall Waffe Munition GmbH
Rheinmetall Defence Electronics GmbH
Rheinmetall Waffe Munition Arges GmbH
American Rheinmetall Munitions, Inc. - ARM
Rheinmetall Denel Munition (Pty) Ltd - RDM
Reutech Fuchs Electronics (Pty) Ltd
TPzl-FOX/FUCHS (Nuclear/biological/chemical reconnaissance vehicle)
TPzl-FOX/FUCHS (Command vehicle)
FUCHS 2 (Nuclear/biological/chemical reconnaissance vehicle)
Fuchs/Fox KAI (Mine clearing vehicle)
Discuss