Arotech's MDT Awarded Record $22 Million Orders for DAVID Combat Armored Vehicles
Category: Defence Industry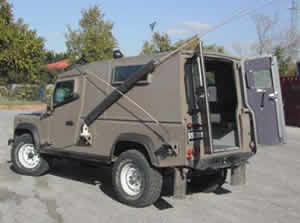 Arotech Corporation announced that its Armor Division has recently entered into a $22 million supply agreement for providing "David" combat vehicles to the Israel Defense Force (IDF).
The "David" was designed in Israel by Arotech's MDT Protective Industries in collaboration with the IDF and will be built in MDT Armor's Alabama facility.
With this supply agreement, Arotech's backlog stands at $39 million.
MDT Armor's "David" combat vehiclesThe new supply agreement follows the successful completion of a recently received pilot order from the IDF for MDT's "David" armored vehicles, most of which were delivered in the first quarter. The "David" is specifically designed as an urban combat vehicle, a result of years of MDT experience in designing armored vehicles.
"The demand for MDT's "David" indicates that there is a clear need for a new armored solution for urban military applications. The 'one-size-fits-all' concept that was well demonstrated with the non-armored HMMWV cannot be applied to armored vehicles in today's urban warfare scenarios. Constraints caused by the added weight of armor need to be addressed with the vehicle's mission in mind," said Robert S. Ehrlich, Chairman and CEO of Arotech Corporation.
"We are proud that the IDF has decided to equip its soldiers with our armored vehicles. We believe the "David" can be appropriate to many urban warfare situations, and we are planning on presentations of the David to other militaries facing similar urban warfare situations."
The "David" is an ultra-light armored personnel carrier for combat missions designed for the urban low intensity conflict. With a small footprint (considerably shorter, lighter and narrower than the up-armored HMMWV) it is ideal for operating in urban and other densely populated areas. Its flexible design allows for several armor options, seating arrangements and equipment installations, all designed to meet specific operational tasks. It can carry 4, 5 or 6 soldiers in full battle gear. Gun ports (in all 4 directions) allow for accurate return fire as soldiers have full view of gun sites and surrounding area through the armored windows.
Arotech Corporation
11.04.2006

Share...





FLIR Wins U.S. Army Heavyweight Robot Contract Worth Up to $109M
06.12.2019
General Dynamics UK selected for Army Warfighting Experiment 2019
23.09.2019
Cobham Launches New Integrated Communications Products
14.09.2017
BAE Systems Teams with QinetiQ to Pursue Electric Drive on Combat Vehicles
04.06.2017
Discuss