U.S. Marine Corps Awards General Dynamics $44 Million Expeditionary Fighting Vehicle Contract
Category: Contracts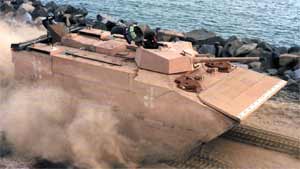 STERLING HEIGHTS, Michigan. – The U.S. Marine Corps Systems Command in Quantico, Virginia., has awarded General Dynamics Land Systems, a business unit of General Dynamics (NYSE: GD), a $44.4 million contract to complete the systems development and demonstration (SDD) phase of the Expeditionary Fighting Vehicle (EFV) program.
General Dynamics will provide all required materials, services, personnel and facilities to complete EFV design and development, perform studies and analyses, manufacture and test all SDD prototypes, prepare for production, initiate logistics support and successfully complete the SDD phase.
Work will be performed by General Dynamics Amphibious Systems, an operating unit of General Dynamics Land Systems, in Camp Pendleton, Calif.; Aberdeen, Md.; Sterling Heights, Mich.; and Woodbridge, Va. Work is expected to be completed by September 2009.
The EFV is an amphibious assault vehicle with a breakthrough design that provides the Marines with a transformational leap in technology and capability resulting in dramatically improved land and sea performance.
The Marines are currently executing a multi-phased land, sea and force-on-force Operational Assessment (OA) of the EFV. Last month, the EFV successfully completed the gunnery phase of the assessment at Camp Lejeune, N.C.
Off-shore ocean operations testing will be conducted in June and July near Camp Pendleton, Calif., to be followed by land and force-on-force combat maneuvers at Twenty-Nine Palms, Calif., July through September. Once deployed, the EFV will help the Marines sustain inland combat operations by maximizing tactical surprise; minimizing vulnerability on land; providing improved firepower, lethality, and survivability; and providing command, control, communication, computer and intelligence (C4I) on-the-move capability.
On land, the EFV will maneuver and fight as an integrated part of the joint services ground combat force. The vehicle is capable of speeds up to 45 mph allowing it to complement the Abrams main battle tank during offensive maneuvers to inland objectives. The EFV's land mobility and communications capabilities provides Marines the ability to exploit enemy force vulnerabilities.
Off shore, the EFV allows Marines to implement their Operational Maneuver from the Sea doctrine. The EFV can launch forces from 20 to 25 nautical miles at sea, carrying its crew of three and 17 combat-ready Marines to shore at speeds in excess of 20 knots, three times faster than the current AAVP7-A1. This provides a significant increase in operational flexibility and agility.
The Marine Corps awarded General Dynamics the EFV contract in 1996. The vehicle entered the SDD phase in 2001. Production of 1,013 vehicles is planned to begin in fiscal year 2007 and continue until 2020.
General Dynamics
14.04.2006

Share...





KONGSBERG CONCLUDES A $ 54 MILLION CONTRACT FOR THE DELIVERY WEAPON STATIONS TO CANADIAN ARMY
05.06.2020
Germany awards 159 MUSD vehicle contract to GDELS
24.04.2020
Switzerland awards contract to General Dynamics European Land Systems- Mowag to deliver 100 EAGLE 6x6 reconnaissance vehicles
06.12.2019
General Dynamics Land Systems–UK showcases adaptable Foxhound vehicle at DSEI 2019
23.09.2019
General Dynamics Land Systems - GDLS
General Dynamics Ordnance and Tactical Systems
General Dynamics European Land Systems-Mowag GmbH
General Dynamics Santa Barbara Sistemas
General Dynamics Armament Systems
General Dynamics Defence Systems
General Dynamics European Land Systems-Steyr GmbH
General Dynamics Armament and Technical Products (GDATP)
General Dynamics Amphibious Operations - GDAMS
General Dynamics Corp., Advanced Information Systems
General Dynamics Robotic Systems - GDRS
General Dynamics Land Systems - GDLS - Canada
General Dynamics European Land Systems - GDELS
Discuss