Force Protection Exceeds June Production Objectives
Category: Defence Industry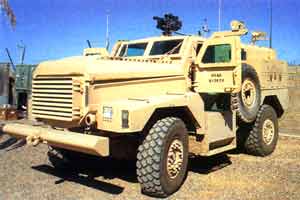 Force Protection, Inc. today announced it has again exceeded vehicle production objectives. The armored vehicle manufacturer produced and delivered 19 Cougar Joint Explosive Ordnance Disposal Rapid Response Vehicles (JERRV) and three Buffalo route clearance vehicles to the U.S. government in June.
"This is an important season for Force Protection," said CEO Gordon McGilton. "Starting in November 2005, we committed substantial time and resources to the expansion of our production capacity and capabilities, and we have met or exceeded production schedules each month since as a result. We look forward to continuing this remarkable upward trend as we address the Iraqi Light Armored Vehicle (ILAV) contract."
Force Protection was awarded a contract by the U.S. Department of Defense in May 2005 for 122 Cougar JERRVs for use by all branches of the armed forces. The contract, administered by the Marine Corps, was slated for completion in June 2006.
"We have done precisely what we committed to do," said Vice President for Marine Corps Programs Wayne Phillips. "The completion of the JERRV contract took place as we told the Marines last year when our ramp-up efforts began. In addition, we are on track for the on-time completion of the current Buffalo contract with the Army, and will apply these same practices to the ILAV program."
Force Protection's Buffalo and Cougar vehicles have been deployed in Iraq and Afghanistan since 2003. Popular with military engineers and explosive ordnance disposal teams, not a single reported fatality has occurred in three years despite more than 1,000 mine detonations and improvised explosive device attacks.
Sergyi Way
04.07.2006



www.army-guide.com
Share...





Rheinmetall MAN Survivor R special protected vehicle on show at GPEC 2020 international security exhibition in Frankfurt/Main
24.02.2020
General Dynamics Land Systems–UK showcases adaptable Foxhound vehicle at DSEI 2019
23.09.2019
The Dutch armed forces select Rheinmetall to modernize their Bergepanzer 3 Büffel
17.05.2019
BAE Systems awarded Armored Multi-Purpose Vehicle contract modifications by U.S. Army for Low-Rate Initial Production
24.02.2019
Cougar (Wheeled armoured personnel carrier)
Cougar H 4x4 (Mine protected carrier)
Cougar MRAP (Mine protected carrier)
Cougar (Wheeled armoured personnel carrier)
Discuss
Records 1 to 1 of 1
Post

Misima
12:25 10.07.2006


Do you think this shit of news is interesting to ANYBODY?