BAE Systems Awarded $223.5M Contract to Re-manufacture and Upgrade Bradley Armoured Vehicles
Category: Contracts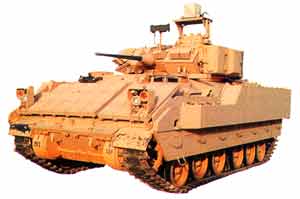 BAE Systems received a $223.5 million contract modification from the U.S. Army TACOM Life Cycle Management Command to re-manufacture and upgrade 96 Bradley Armoured Vehicles.
BAE Systems will re-manufacture and upgrade 57 Bradley A3 vehicles in infantry and cavalry configurations, 16 Bradley A3 Fire Support Team (BFIST) vehicles and 23 A2 Operation Desert Storm-based M7 BFIST vehicles. Disassembly will be performed at BAE Systems in Fayette County, Pa. Final assembly, integration and testing will be conducted at the BAE Systems facility in York, Pa.
BAE Systems will field the Bradley vehicles directly to the units at their home locations and conduct any necessary training and technical support. Vehicle deliveries under this contract will begin in January 2008 and run through mid-2008.
Bradley Combat Systems vehicles continue to provide outstanding survivability and mobility to U.S. soldiers in all types of close-combat urban scenarios and in open-combat, open-terrain scenarios over three completed rotations. The Bradley fulfills five critical mission roles - infantry, cavalry, fire support, battle command and engineer squad.
Bradley Combat Systems have played a critical role in the success of the U.S. Army that have faced some of the most challenging missions in Iraq since the conflict began in March 2003. During Operation Iraqi Freedom, the Bradley operational readiness rate has exceeded 94 percent in urban and cross-country missions that have covered more than 8 million miles. The Bradley moves with maneuvre forces across rough terrain at speeds up to 38 mph, and can negotiate narrow streets and tight corners in urban areas.
The C4ISR-equipped, network-ready Bradley vehicles feature a proven set of armour solutions designed to protect soldiers against a wide variety of threats, and are readily equipped with the Bradley Urban Survivability Kit.
Last year, the Army contracted with BAE Systems to re-manufacture and upgrade 450 Bradley A3, 50 A2ODS and 33 BFIST vehicles under fiscal year 2005 funding (June 2005). BAE Systems has now been awarded a total of 501 Bradley vehicles to date under fiscal year 2006 funding totaling $477.9 million. Approximately 595 Bradley A3 vehicles have been delivered against the Army's requirement for 2,545 total Bradley A3s planned for the fleet.
Sergyi Way
03.08.2006



www.army-guide.com
Share...





BAE Systems` CV90 increases lethality by testing SPIKE LR anti-tank guided missile
14.01.2020
U.S. Marine Corps orders more Amphibious Combat Vehicles
11.11.2019
RAVEN Countermeasure System protects vehicles from missile threats
15.10.2019
BAE Systems unveils Robotic Technology Demonstrator Vehicle at AUSA
15.10.2019
BAE Systems Land Systems Hagglunds AB
BAE SYSTEMS Advanced Technology Centre
BAE SYSTEMS Customer Solutions & Support Land & Sea
BAE SYSTEMS Operational Training
BAE SYSTEMS RO Defence Small Arms Ammunition Division
BAE Systems North America, Land & Information Systems
Bradley M2/M3 (Infantry fighting vehicle)
Bradley M2A3/M3A3 (Infantry fighting vehicle)
Bradley M6 Linebacker (Anti-aircraft system)
Bradley M2A3 (Modernization of the vehicle)
Bradley M7 (Observation Post Vehicle)
Bradley M2A1/M3A1 (Infantry fighting vehicle)
Bradley M2A2/M3A2 (Infantry fighting vehicle)
Bradley M2A3 IBAS (Modernization of the vehicle)
Bradley AMTV (Ambulance vehicle)
Bradley AMEV (Ambulance vehicle)
Bradley BMV (Self-propelled mortar)
Discuss