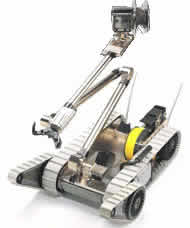 iRobot to Deliver PackBot Robots to German Federal Defense Force
BURLINGTON, Mass., – iRobot Corp. (NASDAQ: IRBT) today announced it has signed an agreement with the German Bundeswehr (Federal Defense Force) to deliver 18 iRobot® PackBot® EOD robots, spare parts and repair services this year, with a follow-on option for 22 additional robots in 2007. The bomb disposal robots will be used by German forces to identify and dispose of Improvised Explosive Devices (IEDs).
iRobot was among six companies that participated in the competitive bid process. The PackBot EOD was selected for its durable, lightweight and compact design – key attributes for executing successful IED missions.
"Military organizations worldwide are embracing new technology to assist 21st century warfighters," said Helen Greiner, iRobot co-founder and chairman. "iRobot is well positioned to become a global robot supplier as more countries choose to deploy the combat-proven PackBot rather than sending soldiers into dangerous situations."
This is the second international contract iRobot has announced in recent days. Last week, the company announced an agreement to deliver 30 PackBot robots, spare parts and support to the United Kingdom's Ministry of Defence. The robots will be used to identify and dispose of IEDs as part of the country's effort to combat terrorism.
PackBot continues to grow in popularity because of its modular architecture, which allows developers to integrate various payload capabilities that help to keep first responders and troops out of harm's way.
To date, iRobot has delivered more than 500 PackBot robots to a broad range of military and civilian customers worldwide. The robots have performed tens of thousands of missions in Iraq and Afghanistan and are credited with saving soldiers' lives.