Scania Awarded 100 Million Euro Contract for 555 trucks
Category: Contracts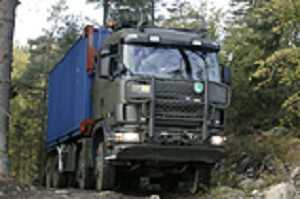 Scania has won a service contract with the Dutch army. The contract is worth about 100 million Euros and covers the repair and maintenance of 555 trucks and their ancillary equipment.
The contract, which covers a period of 13 years, also includes training of the army's mechanics, who will repair and maintain the trucks during operations in the field and on international assignments. Under the terms of the agreement, the Dutch army gains access to most of Scania's 50 workshops in the Netherlands.
The agreement covers the 555 multi-wheeled trucks that Scania has delivered to the Dutch military over the past 12 months. The four-axle trucks are fitted with 420 hp 12-litre engines driving all four axles to ensure good off-road ability in demanding terrain.
It was in November 2003 that Scania secured the contract to sell 555 trucks in fierce competition from Europe's leading truck manufacturers, making this the company's biggest-ever military order outside Scandinavia. The final decision was made after exhaustive testing by the Dutch army under a variety of climate and terrain conditions.
Sergyi Way
21.11.2006



www.army-guide.com
Share...





Discuss