Elop to Provide Thermal Imaging Sensors for the Korean Tank K1A1
Category: Defence Industry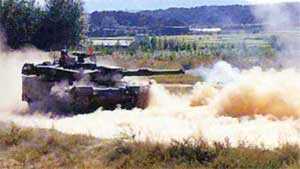 Elbit Systems Ltd. announced that its subsidiary Elbit Systems Electro-Optics Elop Ltd. ("Elop") will supply Thermal Imaging kits for the Gunner Periscope Sights of the Korean Tank K1A1. The contract is valued at approximately $19 million.
Selected as primary contractor of the project to upgrade Gunner Periscope Sights for the Korean tank K1A1, the Samsung-Thales Company will supply, install and test the systems. Sub contractor, Elop will provide the main components for the thermal sensors - the key element of the Gunner Periscope Sights that provide the night capability to the tank.
Elbit Systems Electro-Optics Elop General Manager, Haim Rousso said: "This latest order testifies to our leading role in the growing market of advanced electro-optical systems for defense and homeland security applications, as much as it reflects our vast experience in the development of advanced solutions for both the Israeli Defense Forces and other customers worldwide".
Elop provides turnkey and tailor-made integrated gunner and commander sight solutions for virtually every Main Battle Tanks (MBT) and Armored Fighting Vehicles (AFV) in service today. The Integrated Sights modular design combines direct view observation, TV channels, eyesafe laser rangefinders and a wide variety of night vision technologies with LOS stabilization and hunter-killer solutions.
Elbit Systems Ltd.
30.11.2006

Share...





Elbit Systems of Australia Concludes Successful Delivery of Thermal Weapon Sights to ADF
14.05.2018
Australian Minister for Defence Industry Publicly Announced Elbit Systems' Award of Additional BMS for the ADF
28.11.2017
Elbit Systems Presents SPEAR MK2 – Latest Version of the Fully Autonomous Mortar System for Lightweight Combat Vehicles
16.05.2017
Elbit Systems Brazilian Subsidiary, Ares, Awarded an Approximately $100 Million Framework Contract to Supply Remote Controlled Weapon Stations
11.01.2017
Discuss