Rheinmetall to supply Bundeswehr with Wiesel 2 armoured field ambulances
Category: Defence Industry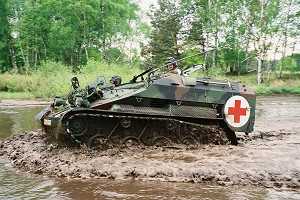 Germany's Federal Agency for Defence Technology and Procurement (BWB) in Koblenz has contracted with Rheinmetall to supply the Bundeswehr with a second lot of Wiesel 13 tracked armoured vehicles configured as field ambulances.
In a separate order, Rheinmetall will also be supplying the Bundeswehr with two Wiesel 2 training vehicles and two training models as well as accompanying logistical materiel for training German maintenance units. Together the two orders are worth around EUR9 million.
Under the terms of the orders, delivery of the vehicles and training equipment is to be largely completed by the end of 2007. These orders ensure stable utilization of the company's Wiesel 2 production capacity in Unterlus and Kiel during the coming year.
This brings the number of Wiesel 2 vehicles procured by the Bundeswehr to over 140. It also consolidates Rheinmetall's role as the Bundeswehr's leading supplier of lightweight tactical vehicles for out-of-area operations.
Sergyi Way
18.12.2006



www.army-guide.com
Share...





Rheinmetall MAN Survivor R special protected vehicle on show at GPEC 2020 international security exhibition in Frankfurt/Main
24.02.2020
Rheinmetall books ˆ110 million-contract to extend the service life of the Marder infantry fighting vehicle for the Bundeswehr
21.01.2020
Rheinmetall to Feature Next Generation 130mm Tank Gun at AUSA Global
04.11.2019
Rheinmetall Presents Next Gen "Wiesel Wingman" solution for Robotic Combat Vehicle – Light at AUSA 2019
04.11.2019
Rheinmetall MAN Military Vehicles GmbH - RMMV
Rheinmetall Verseidag Ballistic Protection GmbH
Rheinmetall Soldier Electronics GmbH
Rheinmetall AG, Representative Office Abu Dhabi
Rheinmetall Waffe Munition GmbH
Rheinmetall Defence Electronics GmbH
Rheinmetall Waffe Munition Arges GmbH
American Rheinmetall Munitions, Inc. - ARM
Rheinmetall Denel Munition (Pty) Ltd - RDM
Wiesel 2 (Reconnaissance Vehicle)
Wiesel 2 lePzMrs (Self-propelled mortar)
Wiesel 2 Ozelot (Anti-aircraft system)
Wiesel 2 (Reconnaissance Vehicle)
Wiesel 2 Argus (Reconnaissance Vehicle)
Wiesel 2 ATM HOT (Self-propelled antitank guided missile system)
Wiesel 2 UF/BF (Command vehicle)
Wiesel 2 digital (Robot, Unmanned Vehicle)
Discuss