Armor Holdings, Inc. Receives $32 M Order for Pinzgauer Light Tactical Armored Vehicles
Category: Defence Industry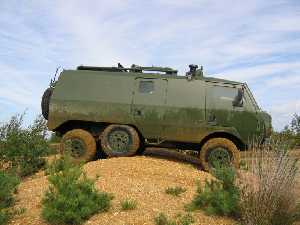 Armor Holdings, Inc., a leading manufacturer and distributor of military vehicles, vehicle armor systems and life safety and survivability systems serving military, law enforcement, homeland security and commercial markets, announced today the receipt of an order valued at approximately $32 million from the United Kingdom Ministry of Defence for additional Pinzgauer Protected Patrol Vehicles.
The Company stated that the new deliveries will be completed in 2007 with work performed at the Armor Holdings Aerospace and Defense Group's Pinzgauer facilities located in Guildford, Surrey UK, with vehicle armoring support to be provided by the Aerospace and Defense Group at its facilities located in Fairfield, Ohio.
It is the second order the UK Ministry of Defence has placed for additional Pinzgauer model armored vehicles in support of British deployed forces.
Sergyi Way
04.05.2007



www.army-guide.com
Share...





Ricardo unveils new concept in life extension for Pinzgauer all-terrain vehicle fleets
20.06.2012
Navistar Finalizes U.K. Deal to Provide Afghan-Specific Tactical Support Vehicle
07.04.2009
Navistar Delivers MXT-Based Units for MRAP All Terrain Vehicle Testing
25.02.2009
U.K. MoD Selects Navistar for Mission Specific Tactical Support Vehicle
23.11.2008
Pinzgauer 716 MK (Patrol Vehicle)
Discuss