Prowler Light Tactical Wheeled Vehicle (LTATV) Now Available On Gsa Schedule
Category: Contracts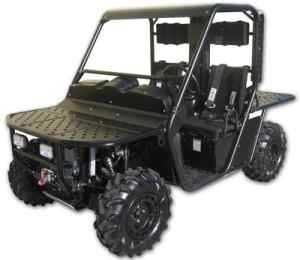 The All Terrain Vehicle Corporation division of Phoenix International Systems, Inc., announced that its Prowler LTATV is now available for purchase on the US General Services Administration schedule (FSS78) Contract No. GS03FOO56T.
The Prowler is a vehicle purpose-built for the military with a peerless record for endurance, reliability and operator safety. While similar in size and appearance to a generic ATV, it is completely different in operation, structural design and performance.
According to Phoenix International's CEO, Amos Deacon, "Prowlers are more rugged, reliable and stable than any other ATV type product available - including those that have been modified for military use."
"Since its introduction in 2002, the Prowler has been deployed around the world by military forces in a wide range of assault, ISR, SAR and other 'special mission' configurations.
All Terrain Vehicle
03.08.2007

Share...





RENAULT TRUCKS Defense offers a new line of vehicles to internal security forces
22.11.2017
U.S. Army Places $195 Million Order For Joint Light Tactical Vehicles
02.08.2017
BAE Systems expands teaming in Italy for highly mobile armored vehicles
25.07.2017
BAE Teams With Ray Service to Support Swedish Mjolner Mortar Program
03.05.2017
All Terrain Vehicle Corporation - ATV
Discuss