Thailand to Procure Ukrainian-made Armoured Personnel Carriers
Category: Defence Industry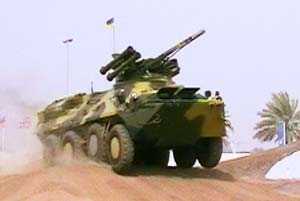 Thailand's army is going to order 96 armoured personnel carriers at a cost of four billion baht from Ukraine.
This was announced by Sonthi Boonyaratkalin, Thailand's army commander-in-chief and chairman of the Council for National Security.
Some vehicles would be stationed at the Second Infantry Division in Saraburi province and the rest would be deployed in the deep South.
Gen Sonthi said the choice was carefully considered. The Ukrainian model is within the army budget and spare parts are still being made in Ukraine. The Defence Ministry would seal the procurement as a government-to-government deal.
Defence Minister Boonrawd Somtas said last week that the army favoured the BTR-3E1 armoured vehicle, because it was the cheapest of the nine bidders. Gen Boonrawd said Canada, Russia and China had lobbied hard for the sale, but price was the deciding factor.
"The Canadian vehicles are excellent, but we would get only half of the 96 vehicles we will get from Ukraine. It's like buying Japanese cars over European cars," he said.
Source: Bangkokpost
Sergyi Way
06.08.2007



www.army-guide.com
Share...





Otokar offers solutions with technology transfer and local manufacturing models
13.09.2019
Triple-digit million euro contract for Rheinmetall
14.10.2018
Rheinmetall unveils the Lynx KF41 Next-Generation Combat Vehicle
18.06.2018
Eurosatory 2018: Patria 6X6 - Multifunctional transport capacity far into the future
12.06.2018
Discuss