Leader of the Ukrainian armoured construction – SOE KMDB – is 80 years old
Category: Defence Industry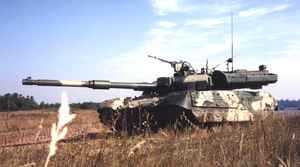 On 6 September 2007, SOE Kharkov Morozov Machine Building Design Bureau (SOE KMDB) celebrated its 80th jubilee.
Created on the basis of Kharkov steam-engine plant in 1927, the design group on tank development was gradually transformed into a separate high-capacity design-manufacturing enterprise creating armoured equipment. It has taken a key place in its field in the former USSR, and now in Ukraine. Among the developments of SOE KMDB a special place is occupied by such vehicles as the best tank of the Second World war – T-34, and a forefather of all the post Soviet main battle tanks – T-64.
At present the SOE KMDB is actively extending the range of its products, among which is heavy armoured equipment (tanks Oplot, Yatagan, BREM), light armoured equipment (armoured personnel carrier 4x4 – Dozor-B, armoured personnel carriers 8x8 – BTR-3, BTR-4), modernisation packages of tanks and armoured personnel carriers of the former USSR (T-55, T-62, T-64, T-72, BTR-50/60/70/80 and others), weapon systems, training facilities (dynamic simulators, training programs, stands, etc.) as well as a number of products of civil purpose.
The detailed history and products of SOE KMDB can be found at www.morozov.com.ua.Morozov,Dozor-B,Oplot
Sergyi Way
06.09.2007



www.army-guide.com
Share...





Problems of Russian Vacuum APFSDS-T projectile
25.01.2019
Bumar Labedy represents the PT-17 MBT on the MSPO 2017
07.09.2017
Representatives of the Iraqi Ministry of Defence Have Accepted Another Batch of BTR-4 Armoured Personnel Carriers
08.02.2013
Missile Tank
03.01.2013
Kharkiv Morozov Machine Building Design Bureau - KMDB
Dozor-B (Wheeled armoured personnel carrier)
Discuss