Unique Solid Terrain Modeling technology adds a new dimension to strategic, tactical and operational planning
Category: Future Technologies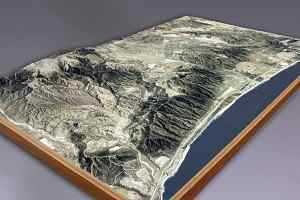 A unique technology, which utilises digital photographic and surveillance data to produce highly accurate and realistic solid, three dimensional geographic models, is being shown at DSEi for the first time.
Solid Terrain Modeling Inc., the California-based firm behind the development, is making its DSEi debut to launch its entry into the global defence market.
Already fully established and successful in the US, where its products and technology are in use with defence, government, public service, educational and geographic organisations, STM now plans to develop its operations in the UK, the EU - and other key regions and world markets.
Its technology can replicate actual landscapes, terrain and defined geographical areas to assist and support strategic, tactical or operational planning – or enhance understanding in a briefing, instructional, training, simulation or educational environment. This subject matter can include mountain ranges, desert regions, river deltas, seascapes, urban areas – or weather patterns.
In addition to creating the physical model, STM can also apply a photo-quality colour finish to the surface to create a remarkably realistic end result. Input data can be utilised from a wide range of sources – such as satellites, aerial photography and surveillance information, imaging, or existing cartographic or contour details.
The basic raw material for an STM model is a block of high-density polyurethane foam. This is then cut by a special computer controlled milling machine, programmed from digital elevation data and other information. Once the cutting process is complete, a custom built printing machine 'flies' special inkjet print heads across the surface to deposit a full, vibrant colour image. The result is a model that allows a far better understanding and visual appreciation of the terrain than any other mapping technology.
STM President, Lawrence Faulkner says, "Solid terrain models are not a replacement from other – and necessary stages in the geo-physical study or planning process. Conventional maps, computer simulation including 'fly-through', thermal data, etcetera, remain in place. But what we can do is bring the overall picture to life - in a way which no other close detailed, interactive or flat image can achieve".
The company has generated some impressive renderings, which serve to demonstrate the versatility of its technology. One such example is a living map of British Columbia – which is 74ft. long and 40ft. wide. It is made up of 100 uniquely shaped panels and illustrates over 1 million square miles of terrain from Oregon to the Yukon Territory. Remarkably, the accuracy of the data has allowed STM to incorporate the curvature of the earth into the model.
Other examples include locality maps used by land developers, engineers and architects to explain planning, development and regeneration programmes to public authorities and politicians. Models are also used by some public service and emergency response organisations to study and plan for potential scenarios such as flooding and fire. A number of specialist models and exhibits are in use in museums and visitor centres.
Solid Terrain Modeling
11.09.2007

Share...





Solid Terrain Modeling Inc. (STM)
Discuss