BAE Systems Launches New V-22 Defensive Weapon System, Begins On-the-Move Testing
Category: Defence Industry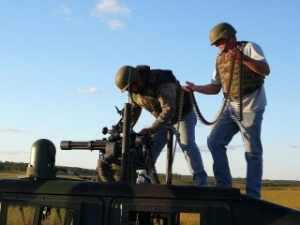 BAE Systems unveiled its new remotely operated turreted weapon system, the Remote Guardian™ System (RGS), designed to provide 360 degrees of suppressive fire for the Marine Corps V-22 tilt-rotor aircraft.
In recent stability testing at Camp Ripley, Minnesota, the RGS, with a GAU-17, 7.62 mm mini-gun, was mounted on a moving land vehicle test platform. The testers demonstrated the weapon's accuracy, based on the three-axis stability and control that is the foundation of the RGS and a core capability of BAE Systems.
"RGS performed admirably in the tests, demonstrating accurate fire on-the-move," Clark Freise, vice president of defense avionics for BAE Systems, said in introducing the system at the Modern Day Marine Expo in Quantico, Virginia. "Due to the support and feedback we received from the Marine Corps' requirements and user communities, we are now launching this as a mature system."
BAE Systems, which has been working with the user community to develop and demonstrate this capability since mid-2005, is planning to make the system available for installation beginning in the third quarter of 2008.
RGS, designed to be belly-mounted on the V-22, is the first remote weapon system capable of delivering accurate, sustained fire throughout the aircraft's entire flight envelope. It features a compact, retractable design that saves valuable aircraft cabin space and was designed to be completely compatible with the V-22's avionics suite.
RGS incorporates proven elements of already-fielded systems, drawing on BAE Systems' more than 50 years of experience in the precision control of airborne weapons systems. In addition to meeting specific V-22 requirements, BAE Systems' modular, retractable design is able to support different weapons and is compatible with different sensors, giving it potential applications on other airborne and ground vehicles.
BAE Systems
03.10.2007

Share...





Discuss